Asia shows signs of export weakness
RISING TENSIONS: The outcome of China-US trade talks this week could determine the outlook for Asian exporters, as PMI readings last month point to a slowdown
Manufacturing activity last month remained relatively solid in major Asian economies, such as China and Japan, but exports showed signs of weakness across the region, a worrying development given heightened trade tensions between Beijing and Washington.
High-level US and Chinese officials are to meet in China this week, with trade expected to be top of the agenda as both sides have threatened reciprocal tariffs on hundreds of billions of dollars worth of imports.
The meetings' outcome could be crucial for the outlook for Asian exporters as purchasing managers' index (PMI) surveys of factory activity are already pointing to a slowdown.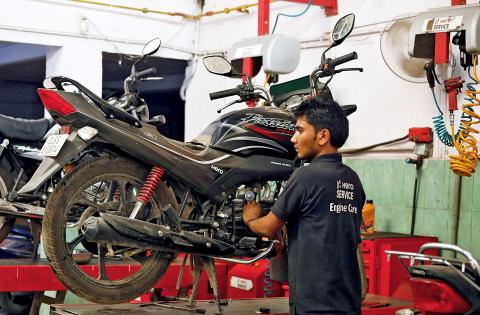 An employee works on a motorbike inside a Hero MotoCorp service station in New Delhi, India, yesterday.
Photo: Reuters
China's Caixin/Markit PMI climbed to 51.1 from a four-month low of 51 in March, topping economists' forecast for a modest slowdown to 50.9.
The survey suggested continued strength in the domestic economy, where consumption was a major growth driver in the first quarter.
However, a sub-index on export orders shrank for the first time since November 2016. An official PMI survey on Monday also showed external orders slowed last month.
Japan saw a similar trend. The Markit/Nikkei PMI rose to 53.8 last month versus a flash reading of 53.3 and a final 53.1 in the previous month.
However, growth in export orders slowed dramatically to only marginal levels due to a stronger yen.
Factory activity in South Korea contracted for a second month last month, with domestic and export orders shrinking.
Some firms said they had scaled back production due to weaker global demand, particularly for electronics and autos.
Data yesterday showed that South Korean exports declined last month for the first time in 18 months.
In Taiwan, factory growth slowed to six-month lows.
This suggests many Asian central banks can leave interest rates low to keep supporting their economies, analysts said.
"The big picture is that inflation in most countries in the region is set to stay benign, giving their central banks scope to keep monetary policy accommodative to support growth," Capital Economics Asia economist Krystal Tan (譚恩) said.
A resurgent US dollar against emerging market currencies could also restore some of Asian exporters' competitiveness.
However, that might not apply to the trio of Asian countries with trade deficits — India, Indonesia and Philippines — which have recently taken a one-two punch.
A rise in US Treasury yields to 3 percent and expectations of further US Federal Reserve interest rate hikes have increased concerns about potential portfolio outflows, while oil prices at three-and-a-half-year highs of about US$75 per barrel have significantly raised import costs.
All three nations' currency and stock markets saw selloffs in the past week and policymakers are reacting.
The Indonesian central bank last week said it was prepared to raise rates to defend the rupiah and that it has recently intervened heavily in currency markets.
The Reserve Bank of India withdrew a restriction that allowed foreign investors to only invest in corporate and government debt with tenures of three years or more.
Comments will be moderated. Keep comments relevant to the article. Remarks containing abusive and obscene language, personal attacks of any kind or promotion will be removed and the user banned. Final decision will be at the discretion of the Taipei Times.