Chip prices set to rise on expected supply shortage
CONSTRAINTS: An equipment malfunction at a Micron fab last month means that manufacturing of some chip types has been disrupted, adding pressure to a shortage
PC DRAM chip prices are expected to climb 3 percent sequentially this quarter, as reduced output from Micron Technology Inc's local operations aggravate a shortage, market researcher TrendForce Corp (集邦科技) said.
A nitrogen supply disruption on March 20 at Taichung-based Micron Memory Taiwan Co (台灣美光) fab has affected chip manufacturing, but operations are expected to be fully restored this month, the Taipei-based researcher said.
"A nitrogen supply issue at Micron Memory Taiwan could prolong current tight supplies in the DRAM market and is expected to push up contract prices of PC DRAM chips by 3 percent in the second quarter of this year compared with the first quarter," TrendForce said in a report on Tuesday.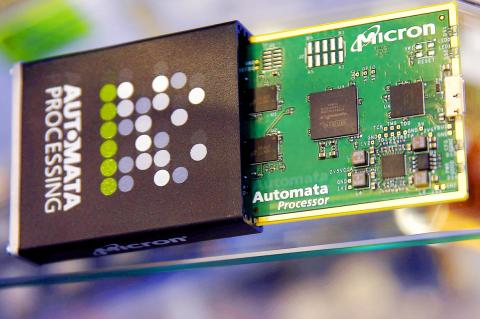 Micron Technology memory chip parts are pictured at its booth at an industrial fair in Frankfurt, Germany, on July 14, 2015.
Photo: Reuters
The nitrogen supply disruption was caused by a gas generation system malfunction.
Pennsylvania-based Air Products and Chemicals Inc, which supplies the gas generation equipment, has recalled the system to the US for repair, the report said.
The Micron fab primarily produces PC DRAM, server DRAM, low-power DDR4 DRAM and graphics DRAM chips, the report said.
Micron confirmed on March 23 that a supplier experienced a maintenance issue on March 20 which is disrupting the supply of nitrogen to one of Micron's Taiwan DRAM fabs.
The company reacted quickly to identify and execute on a plan to minimize potential impact to the business and estimates that the fab will return to full production next week.
TrendForce expects the interruption to deal an even a bigger blow to the graphics DRAM market as supply has been scarce for a while.
The latest price hikes follow a 5 percent quarterly increase for the mainstream PC DRAM, DDR4 4GB modules last quarter as chip supply continued to be tight.
The average cost of DDR4 4GB modules on a contract basis was US$33 per unit last quarter.
Nanya Technology Corp (南亞科技), the nation's biggest DRAM chipmaker, is one of the major beneficiaries of the prolonged price upturn.
A 35 percent year-on-year increase in DRAM prices last year helped boost Nanya Technology's net profit to an all-time high of NT$40.29 billion (US$1.38 billion), which included a disposal gain of NT$32.15 billion after the sale of its stake in Micron.
Nanya Technology on Tuesday saw its share price jump 16.5 percent to NT$90.60 in Taipei trading, outperforming the TAIEX, which rose 1.04 percent.
Comments will be moderated. Keep comments relevant to the article. Remarks containing abusive and obscene language, personal attacks of any kind or promotion will be removed and the user banned. Final decision will be at the discretion of the Taipei Times.