Private gas stations seek margins hike
Increasing operational costs have prompted private gas station operators to demand higher margins from selling the state-owned refiner's products, the Chinese-language China Times reported yesterday.
The National Association of Petrol Station Businesses of the ROC has requested that CPC Corp, Taiwan (CPC, 台灣中油) raise the gross profit for unleaded gasoline by NT$0.2 per liter in the wake of a higher minimum wage and other operational costs, the report said.
Gas station operators' margins have been constrained since 2016 due to adjustments in the workweek policy, an increase in the minimum hourly wage from NT$120 to NT$140 and stricter environmental rules, association executive director Lin Cheng-kuan (林政寬) said.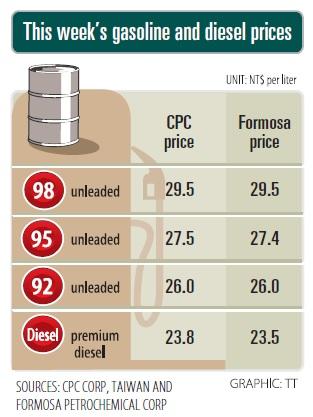 Huang Jen-hung (黃仁弘), head of CPC's marketing business division, said the refiner would discuss the issue after conducting a comprehensive study, the newspaper said.
Separately, CPC yesterday announced that it would lower fuel prices this week, as crude oil prices dropped last week amid continued increases in inventories and US crude oil production.
Its average crude oil cost fell by US$0.17 per barrel to US$62.24, the refiner said in a statement, adding that CPC would cut gasoline and diesel prices by NT$0.1 per liter from today, after factoring in the New Taiwan dollar's appreciation of NT$0.035 against the US dollar.
Comments will be moderated. Keep comments relevant to the article. Remarks containing abusive and obscene language, personal attacks of any kind or promotion will be removed and the user banned. Final decision will be at the discretion of the Taipei Times.