Businesses okay with rate hike: minister
REASONABLE: Claiming that industrial users have expressed acceptance of an electricity rate increase, the minister of economic affairs said they should not pass it on to consumers
Minister of Economic Affairs Shen Jong-chin (沈榮津) yesterday said that a moderate hike in electricity rates of about 3.5 percent for big industrial users was reasonable, adding that some businesses have said an increase of about 3 percent would be acceptable to them.
Shen made the remarks on the sidelines of a consumer electronics trade show at the Taipei World Trade Center — which started on Friday and is to end today — in response to concerns that large industrial consumers subject to the rate hike might raise their prices due to increased electricity costs.
The ministry's electricity price review committee on Friday announced that state-run Taiwan Power Co (Taipower, 台電) is to raise electricity rates by an average of 3 percent, or NT$0.0765 per kilowatt-hour (kWh), from April 1.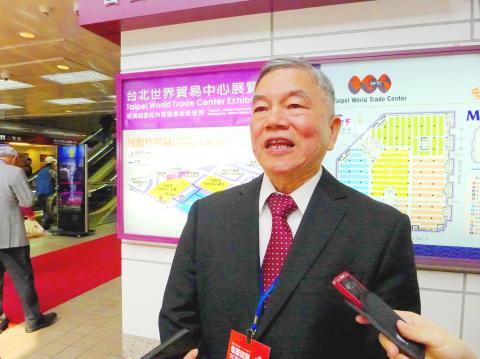 Minister of Economic Affairs Shen Jong-chin speaks to the media in Taipei yesterday.
Photo: Lee Ya-wen, Taipei Times
Electricity rates are to be raised from NT$2.5488 to NT$2.6253 per kWh, but households that use less than 500kWh and small businesses that use less than 1,500kWh per month would not have their electricity rates increased, meaning that more than 80 percent of users would remain unaffected by the rate hikes, the ministry said.
Therefore, the latest electricity rate adjustment would not affect small businesses and would only drive up local consumer prices by 0.08 percent, Shen said.
Asked if the ministry would consider providing people with subsidies for the purchase of energy-efficient home appliances, such as air conditioners, refrigerators, TVs and water heaters, in a bid to promote domestic energy conservation, Shen said the ministry has talked with home appliance and electronics suppliers and distributors to come up with measures to promote such products.
Taipower has not released a detailed pricing plan for different categories of consumers, but under the new scheme, big households, large businesses and certain industrial users are expected to shoulder an average 3.45 percent increase in their electricity bills, the ministry said.
Based on a 3.45 percent increase, households using 501kWh to 700kWh per month would see their bills increase by NT$3.92 per kWh, while those using 701kWh to 1,000kWh per month would see an increase of NT$4.57 per kWh and those using more than 1,001kWh would see an increase of NT$5 per kWh.
Those using 1,000kWh per month and those using 2,000kWh would see their monthly electricity payments increase by NT$72 and NT$83, respectively.
Meanwhile, Shen said members of the delegation led by Minister Without Portfolio John Deng (鄧振中), which flew to the US yesterday to negotiate the exemption of Taiwanese steel and aluminum exports from US tariffs, included economic officials, as well as representatives from local steel companies and trade associations.
The Chinese-language Liberty Times (the sister paper of the Taipei Times) yesterday quoted Shen as saying that the delegation would meet with major US buyers of Taiwanese steel and aluminum products and let them further discuss the tariff issue with US congressional leaders.
The delegation would seek to talk with US foreign-trade agencies during its one-week visit, he said.
Comments will be moderated. Keep comments relevant to the article. Remarks containing abusive and obscene language, personal attacks of any kind or promotion will be removed and the user banned. Final decision will be at the discretion of the Taipei Times.