China's retailers exploit Women's Day
'SHE ECONOMY': Women's rights advocates have slammed the commercialization of a day that was conceived to focus on equality, workplace opportunities and advancement
Chinese retailers are cashing in on International Women's Day, offering coupons and discounts on sportswear, cosmetics and healthcare to get women to spend more, dubbing the day "Queens' Day" and "Goddesses' Day."
Across the globe, women are hosting workshops, protests and dinner parties to celebrate the women's rights movement and press for progress on gender equality.
However, in China, the day was dominated by sales campaigns from online retailers, a trend that has angered women's rights activists who want to reclaim the day as an opportunity to make progress on issues like combating sexual harassment.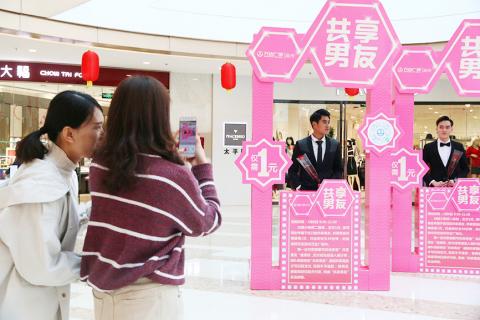 A woman takes photographs yesterday of men standing behind booths at an International Women's Day event at a shopping mall in Binzhou, China, where customers can rent a "boyfriend" for 1 yuan for 30 minutes.
Photo: Reuters
One gym pushed memberships by saying "it only takes three months to become a queen," while Alibaba Group Holding Ltd (阿里巴巴) encouraged shoppers to "give life to your women-power."
The women-targeted market, or the so-called "she economy," a term coined by the Chinese Ministry of Education in 2007, is expected to account for US$700 billion by next year, according to Guotai Junan Securities Co (國泰君安證券).
"If you look at how companies are thinking about their ad spending, how they think about product selection, probably they are thinking, 70 to 75 percent of our spending really needs to be targeted directly at women," said Ben Cavender, Shanghai-based principal at China Market Research Group (中國市場研究).
Women spent 64 percent more last year than in 2015, with a majority of purchases made in major cities such as Beijing, Shanghai and Guangzhou, according to a report by Alibaba, which controls the largest share of retail e-commerce sales in China.
Purchases were more than cosmetics and shoes.
The number of women who bought running outfits rose more than 13 times in the last 12 months, while spending on boxing gloves by women soared 75 percent, a separate Alibaba report said.
Alibaba did not immediately respond to a request for comment on criticism by women's rights activists on the focus on Women's Day sales by retailers.
Despite women's growing importance to China's economy, they still lack equality of opportunity in business and politics, women's rights activists said.
Chinese women earn 22 percent less than men per month, with the gap being wider in higher level positions, which are more often occupied by men, the Chinese jobs Web site Zhaopin.com (招聘) said in a report.
Only one-quarter of Chinese lawmakers are women.
"The mainstream of Chinese society has not talked about real women's rights issues on International Women's Day for a long time," well-known feminist activist Xiao Meili (蕭美麗) said.
"They don't even dare use the three words funujie (婦女節)," she said, referring to the original name of Women's Day in China, which has connotations of working women.
"They always say 'Queen's Day' or 'Goddess Day', as if this is the day when everyday women finally have the chance to be doted on. It's just consumerist feminism," Xiao added.
Instead of shopping, Chinese women should take action to combat sexual harassment as part of a Chinese MeToo-style movement, the Beijing-based Feminist Voices group, said on the popular Chinese social media app WeChat (微信).
Chinese students, professors and women's rights activists have been calling for more to be done to stamp out sexual harassment on college campuses, after a viral public accusation of sexual harassment was made by a graduate of Beijing's Beihang University against her former professor.
Comments will be moderated. Keep comments relevant to the article. Remarks containing abusive and obscene language, personal attacks of any kind or promotion will be removed and the user banned. Final decision will be at the discretion of the Taipei Times.