Makalot expanding overseas capacity
GLOBAL REACH: The apparel maker expects to secure more orders from the US either by collaborating with local firms or setting up factories in Africa and Central America
Apparel maker Makalot Industrial Co (聚陽) is expanding capacity in Africa and Central America to reach more brand customers, a company executive said yesterday.
"This year, we plan to outsource manufacturing to Lesotho through collaboration with some manufacturers there," chairman Frank Chou (周理平) told a news conference in Taipei.
The company is also considering setting up its own plants in Africa, Chou said, adding that it would send a team to the continent to evaluate the possibility of further expanding its presence there.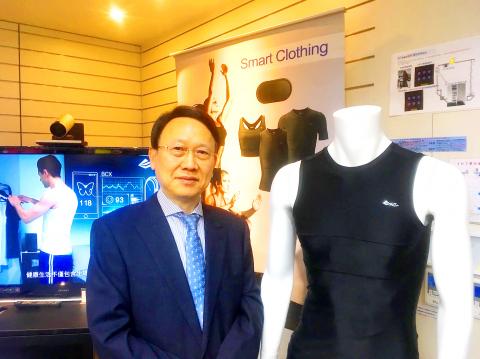 Makalot Industrial Co chairman Frank Chou yesterday stands beside a piece of "smart" clothing developed by the company and Kinpo Electronics Inc at a news conference in Taipei.
Photo: Chen Jou-chen, Taipei Times
Makalot expects to secure more orders from US clients through the expansion project, he said, citing lower labor costs and possibly zero tariffs due to some African nations' trade agreements with the US.
The plan to build a manufacturing base in Africa is also expected to attract European clients, given lower transportation costs compared with Southeast Asian nations, Makalot said.
Makalot operates plants in Taiwan, China, Indonesia, Cambodia, Vietnam and the Philippines, company data showed.
The company, which manufactures products for Gap Inc, Kohl's Corp and Target Corp, is also tapping markets in Central America to further strengthen its position in the supply chain of US apparel brands.
The firm said it would begin manufacturing products in Guatemala in the fourth quarter of this year at the earliest.
Makalot gave a relatively positive business outlook for this year, saying it expects the local currency's fluctuations to have less impact on its operations.
Volatile foreign exchange rates remain a risk to the company, but the appreciation of the New Taiwan dollar should not be as drastic as last year, Chou said.
The NT dollar last year rose 8.14 percent against the US dollar, putting significant pressure on Taiwan's export-reliant manufacturers.
Makalot posted revenue of US$736 million for last year, representing a 7 percent year-on-year increase.
However, in NT dollar terms, full-year sales only gained 1.12 percent to NT$22.38 billion (US$763.35 million), company data showed.
Makalot used the news conference to showcase its latest smartwear products featuring graphene applications, which are expected to drive sales growth and sustain its profitability for the next few years.
The company has been working on the product with Singular Wings Medical Co (奇翼醫電), a Hsinchu-based healthcare solution provider, for more than two years, it said.
Graphene, a material with better biocompatibility, can help devices detect and track the electrical activity of wearers' hearts more accurately, Singular president David Lee (李維中) said on the sidelines of the gathering.
Makalot is ready for commercial production, a company official told the Taipei Times, but declined to provide a timetable.
The company said it plans to spend about NT$100 million on the research and development of smartwear-related projects this year.
Comments will be moderated. Keep comments relevant to the article. Remarks containing abusive and obscene language, personal attacks of any kind or promotion will be removed and the user banned. Final decision will be at the discretion of the Taipei Times.