Twitter shares soar after first-ever profit
Twitter Inc on Thursday reported its first-ever quarterly profit, a key milestone that sent the social network' shares soaring after they had lagged behind fast-growing rivals for years.
The San Francisco-based one-to-many microblogging service said it earned US$91 million in the fourth quarter, the first positive net income since going public in 2013.
Twitter shares rallied 12 percent to close at US$30.18, their highest levels in more than a year, after intraday gains of as much as 26 percent, despite brutal declines on the main US stock indices.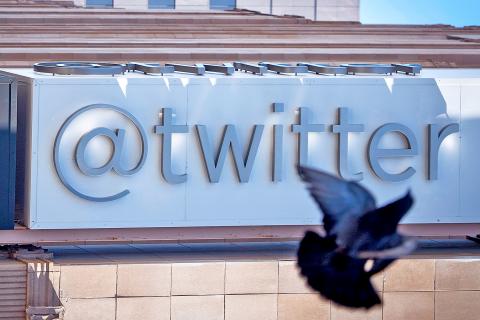 A bird flies past a Twitter Inc sign displayed outside the company's headquarters in San Francisco, California, on Thursday.
Photo: Bloomberg
Revenue increased 2 percent from a year earlier to a better-than-expected US$732 million.
The number of monthly active users was 330 million, unchanged from the previous quarter, but up 4 percent from a year earlier.
Profitability is an important achievement for Twitter, which has lost money consistently since its public offering, sparking speculation on whether it needed to sell itself to keep operating.
While Twitter has built a solid core base of celebrities, politicians and journalists, it has failed to match the broader appeal of Facebook Inc and other social media platforms, hurting its ability to bring in ad revenue.
Twitter chief executive Jack Dorsey welcomed "a strong finish to the year," adding: "I'm proud of the steady progress we made in 2017 and confident in our path ahead."
The network has stepped up efforts to boost its user base and engagement, adding streaming video partnerships, doubling the character limit on tweets to 280 and making it easier to create "tweetstorms."
Dorsey told a conference call that by relaxing the limits "it minimizes some of the complexities" of using the platform and "more importantly it is enabling people to be more expressive about what's on their minds."
Twitter's monthly user base of 330 million is far behind the 2 billion of Facebook, but Twitter said its daily active user base — for which it has not offered a specific number — grew by a double-digit percentage.
Both Twitter and Facebook have stepped up efforts to crack down on "bots" and other efforts to manipulate their platforms, to deflect criticism about the spread of misinformation.
"We are committed to making Twitter safer, and we are clarifying our policies, improving our enforcement, and communicating more clearly," Twitter said in a tweet.
Comments will be moderated. Keep comments relevant to the article. Remarks containing abusive and obscene language, personal attacks of any kind or promotion will be removed and the user banned. Final decision will be at the discretion of the Taipei Times.