Dow loses more than 650 points as US stocks swoon
ACCELERATED TIMETABLE? Some economists predicted that the Fed would respond to a sharp increase in inflation by raising its benchmark rate four times, instead of three
US stocks slumped on Friday, with the market suffering its worst week in two years as fears of inflation and disappointing quarterly results from technology and energy giants spooked investors.
Bond yields rose and contributed to the stock market swoon after the government reported that wages last month grew at the fastest pace in eight years.
The Dow Jones Industrial Average had its worst decline since June 2016, while the broader S&P 500 had its biggest one-day percentage drop since September 2016.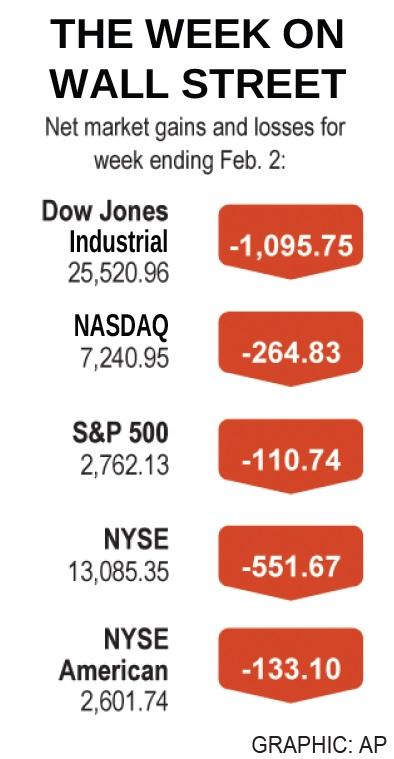 "We've enjoyed low interest rates for so long, we're having to deal with a little bit higher rates now, so the market is trying to figure out what that could mean for inflation," Wells Fargo Investment Institute head Darrell Cronk said.
The increase in bond yields hurts stocks in two ways: It makes it more expensive for companies to borrow money and it also makes bonds more appealing to investors than riskier assets such as stocks.
The sharp decline in stocks this week short-circuited a robust start to the year that was spurred by strong global economic growth, solid company earnings and lingering enthusiasm about the US Republican tax overhaul.
Even with the pullback, the major indices are still up more than 3 percent this year.
The downturn also followed a long period of unprecedented calm in the market. Stocks have not had a pullback of 10 percent or more in two years and hit their latest record highs just one week ago.
The S&P 500 on Friday fell 59.85 points, or 2.1 percent, to 2,762.13. The index has lost 3.9 percent since hitting a record high of 2,872.87 a week earlier.
The Dow Jones Industrial Average on Friday dropped 665.75 points, or 2.5 percent, to close at 25,520.96, falling 4.1 percent from 26,616.71 on Jan. 26.
The NASDAQ on Friday slid 144.92 points, or 2 percent, to 7,240.95, a drop of 3.5 percent from 7,505.77 a week earlier.
The Russell 2000 index of smaller-company stocks on Friday gave up 32.59 points, or 2.1 percent, to 1,547.27, shedding 3.8 percent from a close of 1,608.06 on Jan. 26.
While interest rates are still low by historical standards, meaning borrowing is still relatively cheap for businesses and people, they have been rising more swiftly, and that is what has had markets on edge.
"The pace of rate increases is more important than the level," Manulife Asset Management senior portfolio manager Nate Thooft said.
The increase in rates has been driven by the prospect of stronger economic growth and higher inflation in the US and abroad.
Bond prices on Friday declined again, pushing yields higher. The yield on the 10-year Treasury note, a benchmark for interest rates on many kinds of loans, including mortgages, climbed to 2.84 percent, the highest level in about four years.
"Once we started going north of 2.5 percent, and you put that together with an overbought market, it had the ingredients of a sell-off, especially since January was so strong," US Bank Private Wealth Management regional investment strategist Jeff Zipper said.
The S&P 500, which many index funds track, last month soared 5.6 percent, its biggest monthly gain since March 2016.
One concern for investors is that the US Federal Reserve will respond to higher inflation by raising its key interest rate more quickly than expected. Friday's job and wage data stoked those concerns.
US employers last month added a robust 200,000 jobs, slightly above market expectations for an increase of 185,000. Meanwhile, wages rose sharply, suggesting employers are competing more fiercely for workers.
Some economists on Friday predicted that the central bank would raise its benchmark rate four times this year, rather than the three times most previously expected.
The market slide might have been overdue, particularly after the strong start for stocks this year, in which the S&P 500 had its best January in two decades.
Some investors saw a potential buying opportunity.
The global economy is still strong, corporate profits and sales have been better than expected this reporting season and buyers for stocks remain, all reasons to be optimistic about stocks, Thooft said.
"It's appealing, these 2 to 3 percent pullbacks," said Thooft, who had been trimming some of his stock holdings after the market's big gains last month.
"We look at this and say: 'Maybe it's your first day to buy a little bit,'" he added.
Comments will be moderated. Keep comments relevant to the article. Remarks containing abusive and obscene language, personal attacks of any kind or promotion will be removed and the user banned. Final decision will be at the discretion of the Taipei Times.