Weak US dollar boosts oil prices
Oil received an extra tailwind from a weakening US dollar as this month is shaping up to be the best January for black gold in 12 years.
That is because when the greenback is losing value, investors tend to flock to commodities as a store of value and this is coming on the back of a record streak of declines in US spare supplies of crude.
Futures climbed 1 percent on Friday in New York to their highest since December 2014, pushing this month's gain to 9.5 percent.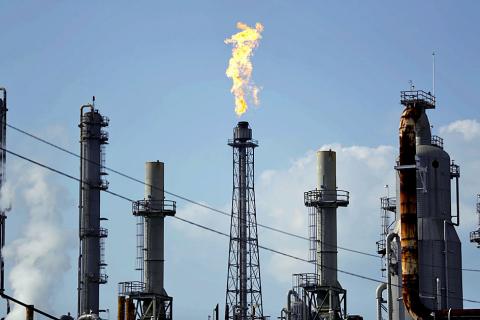 A flame burns at the Shell Deer Park oil refinery in Deer Park, Texas, on Aug. 31 last year.
Photo: AP
The last time oil rose more than that for any month of the year was in April 2016.
Meanwhile, the US dollar posted its longest stretch of weekly declines since 2010.
Crude stowed in US tanks and terminals has never been in more demand, as evidenced by the unprecedented 10-week drawdown on US inventories.
Oil traders are reacting to "US dollar movements," Eric Nuttall, a portfolio manager with Ninepoint Partners LP in Toronto, said in a telephone interview. "I'm encouraged that oil is better reflecting underlying fundamentals and an under-supplied market relative to last year, where it seemed to ignore those improving fundamentals for much of the year."
As stockpiles dwindle in the US, OPEC, Russia and other major producers have pressed on with supply caps amid robust demand.
JPMorgan Chase & Co expects London-traded crude futures to approach the US$78 level by the beginning of the second quarter of this year.
Meanwhile, hedge funds raised their net-bullish Brent bets to a record, according to weekly ICE Futures Europe data.
"We continue to get direction from the dollar," Gene McGillian, a market research manager at Tradition Energy in Stamford, Connecticut, said by telephone. "The long-term effect of production cuts and increased demand are still the main drivers of the rebalance of the market and higher prices."
West Texas Intermediate (WTI) for March delivery added US$0.63 to settle at US$66.14 a barrel on the New York Mercantile Exchange. The contract is up 4.2 percent for the week. Total volume traded on Friday was about 12 percent above the 100-day average.
Brent for March settlement added US$0.10 to end the session at US$70.52 on the London-based ICE Futures Europe exchange. The contract gained 2.8 percent this week. The global benchmark crude traded at a premium of US$4.38 to WTI, the smallest since early September.
"A lot of people looking at the oil market focus 90 percent of their time on supply," Pavel Molchanov, an energy research analyst at Raymond James in Houston, said by telephone. "Demand tends to be overlooked sometimes and it's actually worth emphasizing how strong oil demand has been."
Oil market news:
‧ The US oil rig count rose by 12 to 759, the largest addition since March last year, data from Baker Hughes showed on Friday.
‧ The crude market will remain in backwardation throughout this year with prices trading between US$60 and US$75 a barrel, Mercuria Energy chief executive officer Marco Dunand said during an interview in Davos, Switzerland.
‧ Total SA "is making a big"' oil discovery in the Gulf of Mexico, chief executive officer Patrick Pouyanne said at dinner with US President Donald Trump in Davos on Thursday.
Comments will be moderated. Keep comments relevant to the article. Remarks containing abusive and obscene language, personal attacks of any kind or promotion will be removed and the user banned. Final decision will be at the discretion of the Taipei Times.