'Los Angeles Times' gains a union, loses its publisher
Los Angeles Times journalists have voted to unionize for the first time in the newspaper's 136-year history, while its chief executive on Friday took an unpaid leave of absence amid allegations of improper behavior.
A National Labor Relations Board tally found that newsroom workers voted 248 to 44 to be represented by the union NewsGuild-Communications Workers of America. The vote was taken on Jan. 4.
The union must now negotiate for a collective bargaining agreement. The union said it will seek better pay and benefits as well as "pay equity for women and people of color, greater diversity and better working conditions" for reporters, copy editors, graphic artists and photographers.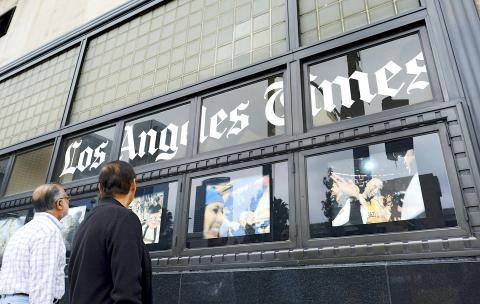 Passersby look at news photos posted outside the Los Angeles Times building in downtown Los Angeles on May 16, 2016.
Photo: AP
"This was a long time coming, and we're all thrilled that this has finally happened," Times copy editor and union organizer Kristina Bui said. "The newsroom has put up with so much disruption and mismanagement, and this vote just underscores how much of a say we need to have in the decision-making process."
"We respect the outcome of the election and look forward to productive conversations with union leadership as we move forward," Times owner Tronc Inc said in a statement. "We remain committed to ensuring that the Los Angeles Times is a leading source for news and information and to producing the award-winning journalism our readers rely on."
Most major news organizations in the US are unionized and digital media such as the Huffington Post have also seen successful organizing efforts.
Meanwhile, Tronc on Friday said that CEO and publisher Ross Levinsohn is taking an unpaid leave of absence while the company investigates allegations that he engaged in "frat-boy" behavior when he was an executive at other companies. He joined the Times on Aug. 21 last year.
National Public Radio reported the allegations on Thursday and said Levinsohn was a defendant in two sexual harassment lawsuits that have been settled.
The Los Angeles Times has had five publishers in the past five years. That has contributed to rising discontent in the newsroom, which also saw jobs slashed and benefits cut as the Times struggled with declining advertising revenues and circulation.
The newspaper's daily circulation is now under 274,000, down from a high of more than 1 million in 1990.
Comments will be moderated. Keep comments relevant to the article. Remarks containing abusive and obscene language, personal attacks of any kind or promotion will be removed and the user banned. Final decision will be at the discretion of the Taipei Times.