CTBC ramps up innovation in Japan
CTBC Bank Co Ltd's (中國信託銀行) efforts to grab business potential in Japan has begun to bear fruit, thanks to innovative services provided by the lender's Japanese unit.
CTBC runs its business in Japan through its fully-owned subsidiary, Tokyo Star Bank Ltd, which has about 1,700 employees in that country, data showed.
Tokyo Star is seen as one of the most innovative Japanese lenders for its retail banking services that truly meet customer needs, according to a report by Japan Credit Rating Agency Ltd (JCR).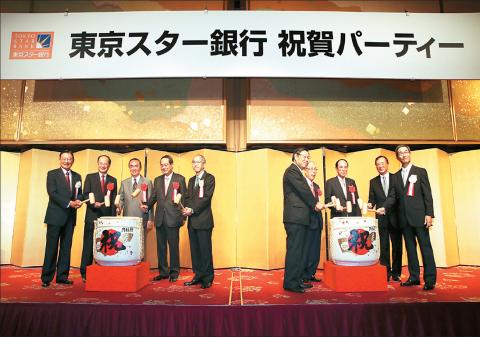 Company officials attend an event that is held in 2014 to celebrate the collaboration between CTBC Bank and Tokyo Star Bank.
Photo courtesy of CTBC Bank
Tokyo Star successfully differentiates itself from conservative competitors by providing detailed personal finance plans, as most Japanese banks do not really take customer demand into consideration, JCR said in the report released last month.
For example, the Japanese retail bank offers reverse mortgages that allow seniors aged 55 and older to leverage their home equity and secure stable retirement income.
A reverse mortgage is a type of loan that homeowners can borrow money against the value of their properties, converting part of the equity in their homes into cash.
That type of product really helps the bank sustain its competitiveness in the Japanese market, as the loan meets changing demand for personal finance in a rapidly-aging society, JCR said.
Tokyo Star continues to improve its services by thoroughly collecting and analyzing customer feedback, as well as providing specific staff training that features Situation-Problem-Implication-Need Payoff (SPIN) skills, the credit rating agency said.
Moreover, the bank is capable of providing personal finance plans from a holistic perspective, as Tokyo Star's employees can easily examine clients' asset portfolios with the help from the bank's well-functioning operating system, JCR said.
CTBC said in a press statement its continued efforts to transform the Japanese unit has begun to yield results, citing a wide range of customized consulting services that are made to provide clients in-depth advice about investment, insurance, and real estates issues.
Apart from enhancing services, Tokyo Star also has an outlet expansion project with a focus on improving its mobility and flexibility to impress customers, CTBC said, referring to the launch of small-sized bank branches.
Located in transportation hubs or commercial zones, those non-traditional outlets feature non-cash transactions and spontaneous services to meet customer demand.
CTBC said it would continue to develop better solutions for customers and sharpen its brand profile in Asia, given its extensive business network in the region.
CTBC has 147 branches in the Taiwanese market, and 100 overseas outlets in 14 countries, the company's Web site showed. Besides Japan, CTBC also runs business in India, Indonesia, the Philippines, Hong Kong, Singapore, Thailand, Vietnam, and China.
Comments will be moderated. Keep comments relevant to the article. Remarks containing abusive and obscene language, personal attacks of any kind or promotion will be removed and the user banned. Final decision will be at the discretion of the Taipei Times.