US retailers claim Black Friday victory
EVOLUTION: One expert said that the day is no longer about discounts; people use it to start getting into the holiday spirit and to enjoy the concept of shopping
US brick-and-mortar retailers did enough things right on Black Friday to consider the event a success, even if the crowds of past years have not returned.
Chains simplified promotions this year and took a keener eye to managing their inventory.
At Wal-Mart Stores Inc, color-coded maps helped shoppers navigate the aisles.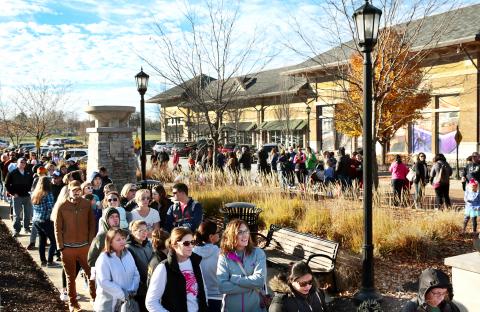 People line up in the hopes of getting one of 500 gift cards being given out by management of the Meadows shopping mall in St Louis, Missouri, on Friday.
Photo: St Louis Post-Dispatch via AP
Retailers also made headway with their e-commerce sites, aiming to chip away at Amazon.com Inc's online dominance.
Taken together, the changes might help bolster sales and profit margins — despite a decline in customer traffic at many locations.
"People think retail is a nightmare, but it's not," said Tracy Ferschweiler, a Wal-Mart market manager who oversees seven stores in New York and New Jersey.
The weather also provided an assist, with cooler temperatures in much of the US putting shoppers in the mood for coats and sweaters.
However, the day was not without its glitches.
Macy's Inc, the largest US department store chain, struggled to process credit card transactions. That led to long lines and frustrated customers.
Many retailers are counting on the holidays to help fuel their turnaround plans, and Black Friday is the season's traditional starting point. Still, the event has lost significance over the years — especially as chains spread out their promotions to attract shoppers earlier in the month.
In the past, Black Friday was famous for crowds bursting through doors and fighting over US$99 DVD players. There is less urgency among shoppers now, but retailers have many advantages this year, including strong consumer confidence and low unemployment.
The day has become more about the experience of shopping, rather than the actual discounts, AlixPartners LLP cohead of retail consulting David Bassuk said.
"People want to start getting into the holiday spirit and enjoy the concept of shopping and the holidays," he said.
E-commerce continues to outpace brick-and-mortar retail in sales growth, making it crucial for traditional stores to have enticing Web sites and apps.
As of Friday morning, Black Friday online spending was up 18 percent this year, according to Adobe Systems Inc.
Much of that shopping is now occurring on smartphones, with mobile devices accounting for 61 percent of visits.
Meanwhile, physical store traffic was down 4 percent to 6 percent, Cowen & Co analyst Oliver Chen estimated.
Retailers have tried to avoid becoming showrooms for Amazon, meaning customers look at products in their stores and then buy it from the e-commerce giant. To keep shoppers from straying, Walmart and others have pumped billions into their Web operations.
Macy's has overhauled its rewards program, aiming to keep consumers loyal regardless of whether they are online or off, and for the first time began booking advanced reservations for visits with Santa Claus, a response to time-strapped parents.
Amazon on Friday announced a slew of offerings for Cyber Monday, including discounts on toys, TVs, fashion and Amazon devices such as the Echo program, which can link to Alexa Voice Service.
Customers last year ordered more than 64 million goods on Cyber Monday, 740 items per second, Amazon said in a news release.
Retail experts are generally upbeat about the overall prospects for this year's holiday shopping performance.
Unemployment stands at just 4.1 percent, US growth stands at about 3 percent and US stock markets are in record range.
Consumers surveyed by the National Retail Federation said they expect an average spend of US$967.13 this season, up 3.4 percent compared with the average in the survey a year earlier.
Additional reporting by AFP
Comments will be moderated. Keep comments relevant to the article. Remarks containing abusive and obscene language, personal attacks of any kind or promotion will be removed and the user banned. Final decision will be at the discretion of the Taipei Times.