Musk beats deadline for building biggest battery
Entrepreneur Elon Musk has won a US$50 million bet by beating a 100-day deadline for building a giant battery to help South Australia avoid energy blackouts, officials said.
South Australia Premier Jay Weatherill said that testing of the massive lithium ion battery would begin within days, ahead of the deadline of Friday next week that Musk set for himself when he signed off on the project earlier this year.
Musk had pledged to build the battery in the South Australian outback for free if it was not completed within the 100 days.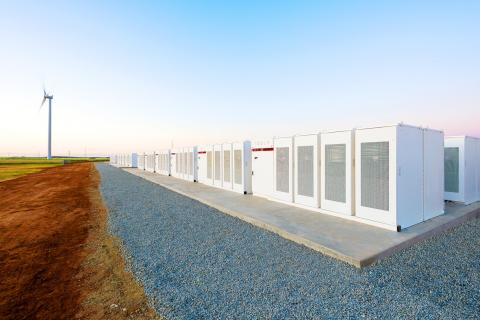 Tesla Powerpacks are pictured in Hornsdale, Australia, on Sept. 29.
Photo: Reuters
He estimated that it would cost at least US$50 million — local authorities will now pick up the tab.
The entrepreneur behind electric carmaker Tesla Inc made the pledge in response to power woes in South Australia, which was last year hit by a state-wide blackout after severe winds from an "unprecedented" storm toppled transmission towers.
"South Australia is set to have back-up power in place this summer through the world's largest lithium ion battery, which is set to be energized for the first time in the coming days as it enters a phase of regulatory testing," Weatherill said in a statement on late Thursday.
Musk's Tesla Powerpack is connected to a wind farm operated by French energy firm Neoen SAS and is expected to hold enough power for thousands of homes during periods of excess demand that could result in blackouts.
Australia is one of the world's worst per capita greenhouse gas polluters, due to its heavy use of coal-fired power.
However, the nation's proposed National Energy Guarantee program could slash investment in large-scale wind and solar projects if the government fails to boost its 2030 emissions-reduction target, a report from Bloomberg New Energy Finance (BNEF) said.
The goal of Prime Minister Malcolm Turnbull's government to reduce emissions by 28 percent by 2030 only requires an additional 1.5 gigawatts of new large-scale renewables, according to an estimate by BNEF.
That target "could decimate large-scale wind and solar construction" while a 45 percent reduction target advocated by the opposition Labor party would "continue the current boom," it said.
"The National Energy Guarantee could be an effective and innovative policy mechanism, but if the target is weak, it will deliver little," BNEF's Australian head Kobad Bhavnagri said in an email.
Turnbull's Liberal-led coalition government was yesterday to provide information to the states in a bid to get them to back the National Energy Guarantee, which aims to bolster reliability of Australia's faltering electricity grid.
Australia's six states and two territories will need to approve the program for it to function properly with a meeting of the Council of Australian Governments to be held yesterday in Hobart to discuss the plan.
Additional reporting by Bloomberg
Comments will be moderated. Keep comments relevant to the article. Remarks containing abusive and obscene language, personal attacks of any kind or promotion will be removed and the user banned. Final decision will be at the discretion of the Taipei Times.