Volvo, Uber in self-driving car deal
Uber Technologies Inc plans to buy up to 24,000 self-driving cars from Volvo Cars Corp, marking the transition of the US firm from an app used to summon a taxi, to the owner and operator of a fleet of cars.
The non-binding framework deal could offer San Francisco-based Uber a way to overcome setbacks at its autonomous driving division in Silicon Valley's race to perfect self-driving systems.
Combining Volvo's cars with Uber's self-driving system builds on their nearly three-year relationship and comes as Uber's autonomous driving unit has been hit by a lawsuit over trade secrets and the departure of top talent.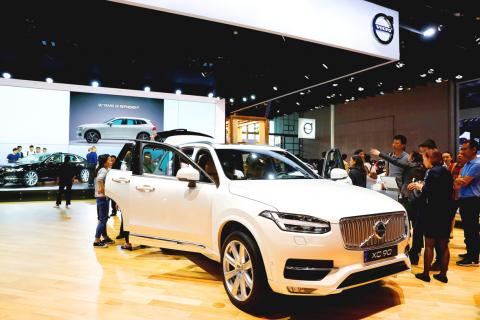 People look at Volvo Cars Corp's XC90 at the Shanghai Auto Show on April 20.
Photo: Reuters
Automakers, ride-hailing firms and tech start-ups have been forging loose alliances to advance self-driving technology and claim a piece of what is expected to be a multi-billion-US-dollar business.
Volvo on Monday said in a statement it would provide Uber with its flagship XC90 sport utility vehicles equipped with autonomous technology as part of a non-exclusive deal from 2019 to 2021.
A Volvo spokesman said it covered up to 24,000 cars.
The self-driving system that would be used in the Volvo cars — which have yet to be built — is under development by Uber's Advanced Technologies Group.
Should Uber buy all 24,000 cars, it would be Volvo's largest order by far and the biggest sale in the autonomous vehicle industry, giving Uber, which is losing more than US$600 million a quarter, its first commercial fleet of cars.
A XC90 typically retails from a starting price of about US$50,000.
Uber has been testing prototype Volvo cars for more than a year — with safety drivers in the front seat to intervene if the self-driving system fails — in Tempe, Arizona, and Pittsburgh, Pennsylvania.
"Our goal was from day one to make investments into a vehicle that could be manufactured at scale," Uber head of automotive alliances Jeff Miller said.
The cars would be available through the Uber app to pick up passengers without a driver.
"It only becomes a commercial business when you can remove that vehicle operator from the equation," Miller said.
No financial details were disclosed for the purchase, which would be a massive investment for Uber and mark a change from its long-standing business model where contractor drivers buy or lease and maintain their own cars.
Miller said a small number of cars would be purchased using equity and others would be bought using debt financing.
The deal builds on a US$300 million alliance Volvo announced with Uber last year focused on collaborating on the design and financing of cars with self-driving systems, which require different steering and braking features and sensors.
"We get support developing this car," Volvo chief executive Hakan Samuelsson said in an interview. "It's also a big commercial deal."
Volvo, which has been under Chinese ownership since it was bought by Zhejiang Geely Holding Group (浙江吉利) from Ford in 2010, plans to make the vehicles at its Torslanda plant in western Sweden, and Samuelsson said they would be sold at about the same profit margin as Volvo sells through dealers.
Comments will be moderated. Keep comments relevant to the article. Remarks containing abusive and obscene language, personal attacks of any kind or promotion will be removed and the user banned. Final decision will be at the discretion of the Taipei Times.