EasyJet boosted by Ryanair retreat
EasyJet PLC yesterday said its fares are set to gain this winter, buoyed by the collapse of carriers including Britain-based Monarch Airlines Ltd and capacity cuts at its main European rival Ryanair Holdings PLC.
The demise of Monarch and Germany's Air Berlin PLC, a bankruptcy filing at Italy's Alitalia SpA and Ryanair's move to scrap part of its timetable amid a staffing crisis are "all very good news for EasyJet," chief executive Carolyn McCall said in an interview.
EasyJet shares rose the most since June last year after the Luton, England-based carrier said that revenue per seat — a measure of prices — should now increase by a low to mid-single-digit percentage in the fiscal first half through March, excluding the impact of taking over some Air Berlin routes.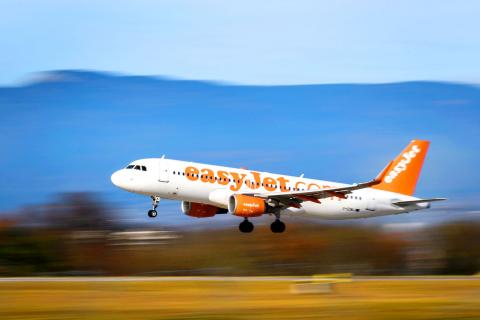 An Airbus A320-214 commercial plane of low-cost carrier EasyJet lands at Geneva airport in Switzerland on Monday.
Photo: AFP
McCall, who is standing down as chief executive before the end of the year, said the shakeout of Europe's airlines has benefited EasyJet structurally and given Europe's second-biggest discount airline "positive momentum" going into the next fiscal year.
The retreat of the carrier's rivals comes as a boost after a weaker British pound weighed on last year's earnings.
"The first half is looking extremely positive and that is as a direct result of the dislocations in the market," McCall said on Bloomberg TV.
Increases in the price of crude oil are likely to result in further pressures, she added, so that "the strong will get stronger and the weak will get weaker."
EasyJet itself is "very well hedged," she added.
EasyJet shares advanced as much as 6.7 percent, the biggest gain since June 28 last year, and were trading 6 percent higher at £13.55 as of 8:49am in London yesterday, taking gains this year to 34 percent and valuing the company at 5.37 billion (US$7.1 billion).
EasyJet's pretax profit for the year ended Sept. 30 fell 17 percent to £408 million, according to a statement, in line with a guidance given last month, and hurt by the slide in sterling and a glut of seating in European markets.
The company said it is too early to provide guidance for the second half, while estimating that taking over Air Berlin plane leases and slots at Berlin's Tegel airport would result in losses of about £60 million in the next fiscal year, plus £100 million in one-off expenses.
The acquisition should close next month, it said.
McCall joined EasyJet as chief executive in July 2010 from Guardian Media Group PLC and is returning to her roots to head up UK broadcaster ITV PLC.
She has already met with successor Johan Lundgren and would see him a couple more times, she said.
"If I have any tips, I'm going to give those to him privately," she added.
Comments will be moderated. Keep comments relevant to the article. Remarks containing abusive and obscene language, personal attacks of any kind or promotion will be removed and the user banned. Final decision will be at the discretion of the Taipei Times.