AI technology expected to become more humanized
Numerous developments in artificial intelligence (AI) were showcased in Taipei on Friday last week, with their developers sharing their vision of the cutting-edge technology that they predict will become more emotionally responsive like humans.
With AI applications such as robots, self-driving cars and automated machinery more pervasive in people's lives, the technology is to incorporate more human features, Soul Machines Ltd chief business officer Greg Cross said.
"Wouldn't it be a whole bunch more interesting, wouldn't these machines be a whole bunch more useful to us, if they were actually more like us?" Cross said at an event focusing on AI development to celebrate Business Week magazine's 30th anniversary.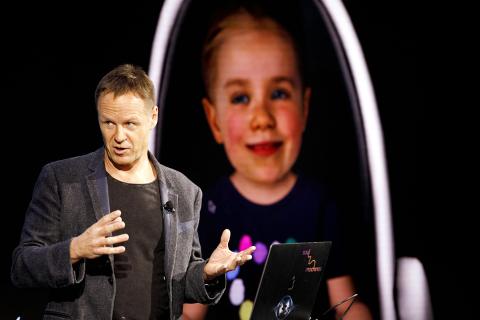 Mark Sagar, chief executive officer of Soul Machines Ltd, speaks during the Wall Street Journal D.Live global technology conference in Laguna Beach, California, on Oct. 18.
Photo: Bloomberg
Cross' company creates life-like avatars with personality and character and, by "putting a face" on AI, it is opening the door to a new era of human-style customer experience that can be implemented across a wide range of industries, he said.
One of the company's digital humans, named "Sophie," incorporates a neural network that combines biologically inspired models of the human brain and sensory networks to create a virtual central nervous system, Cross said.
She is in a trial project with Air New Zealand to answer questions about New Zealand as a tourist destination and the airline's products and services, Cross said.
LifeBeam Labs founder Omri Yoffe, who is the developer of "Vi," a voice-activated AI personal trainer that coaches and motivates users through bio-sensing headphones, shared the same concept.
AI technology is meant to inspire humans, Yoffe said, adding that he hopes the voice agent could resemble a true workout companion that brings out the best in people.
"With emotional warmth and companion experiences, we will now be able to trigger people's minds and help them overcome their motivational barriers," Yoffe said.
The strength of AI lies in its ability to allow people to interact with each other, said Masa Kawashima, director of Asia-Pacific for Niantic Inc, which wowed the world with Pokemon Go, a free, location-based augmented reality game.
The success of Pokemon Go is a result of AI-boosted technology that encourages people to go outside, explore, be social and stay connected, Kawashima said.
"We want people to share an adventure together," he said.
Meanwhile, Japanese messaging app operator Line Corp on Friday announced that it plans to expand its services to cover the Internet of Things next year and hopes to find new partners in Taiwan to help with this development.
At the Line Taiwan TechPulse 2017 held in Taipei, attended by more than 700 third-party developers, the messaging company said it hopes to expand the functions and utility of its messaging platform, adding that Taiwan's strong technology development capabilities and huge talent pool were the reasons behind the event.
Cheng Hung-chia (陳鴻嘉), head of Line's research and development division, also detailed the company's upcoming plans for the Internet of Things following the recent introduction of the company's AI assistant called "Clova."
Through Clova, Line aims to create a world in which AI seamlessly blends into every device, scenario and environment, he said.
Comments will be moderated. Keep comments relevant to the article. Remarks containing abusive and obscene language, personal attacks of any kind or promotion will be removed and the user banned. Final decision will be at the discretion of the Taipei Times.