Nissan executive bows apology
SOUND OF THE FUTURE: The focus of the Nissan presentation at a Tokyo motor show quickly shifted from remorse to optimism about the automakers' 'concept' electric car
Nissan Motor Co executive vice president Daniele Schillaci yesterday bowed deeply for several seconds in a Japanese-style apology, expressing his remorse for widespread illegal inspections at the automaker.
"I would like to take this opportunity to express a sincere apology for our recent issues," he said at the Nissan booth at the Tokyo Motor Show. "We sincerely regret any inconvenience and concern this has caused our valued customers."
This year's show highlights "smart" and "green" vehicles that talk, connect online and stop on their own before crashes, but scandals surfacing within weeks of the auto show, including another one at Kobe Steel that has hit the entire industry, are casting a shadow over the festivities.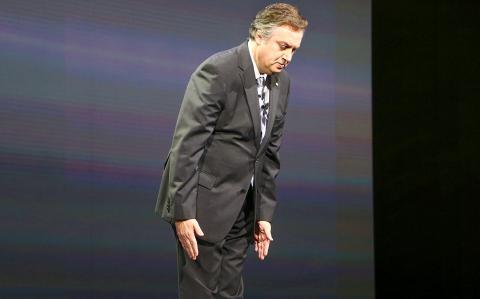 Nissan Motor Co executive vice president Daniele Schillaci bows yesterday before his presentation at the media preview of the Tokyo Motor Show in Japan.
Photo: AP
Schillaci switched from his nearly tearful apology to an upbeat demeanor after a resonating electronic beep — the special sound called Canto, designed for Nissan electric cars to protect pedestrians.
Electric cars are extremely quiet compared with gas-engine cars and people have complained about not being aware of their approaching.
"What you just heard is the sound of the future," he said, proceeding happily with his presentation on automated driving and electric sports cars.
Taking center stage at the Nissan booth was a sleek zero-emissions electric "concept" car, billed as "Nissan intelligent mobility."
It comes with surrounding 360° sensors capability from radars, cameras, lasers and sonars, to deliver accident-free driving, as well as a future in which the car can drop its owner off somewhere before parking or returning home, Schillaci said.
Japanese automakers have been hit by a series of scandals in recent years, including a massive recall of defective airbags made by Japanese supplier Takata Corp that involves about 100 million airbag inflators worldwide. The defect has been linked to 19 deaths and dozens of injuries.
The global industry has also been rocked by a scandal at Volkswagen AG of Germany over cars it had illegally rigged to cheat on US emissions tests.
Nissan, allied with Renault SA of France, acknowledged last month inspection irregularities had been going on for years at its plants in Japan, with the final inspections routinely done by unauthorized staff.
Shortly after apologizing for that, Nissan said the illegal checks had continued.
It has halted production in Japan for the domestic market until it can figure out how a recurrence can be prevented.
Nissan company officials said the practice was so ingrained it was hard to change. Better communication is needed among managers and production will not resume until the government gives its approval.
Thousands of cars will have to be reinspected.
"We have formed an investigative team with a third party, which is working hard to find out what happened and why," Schallaci said.
The other scandal, over the falsification of data at Kobe Steel, spans dozens of products made of steel, aluminum, copper and other materials, affecting about 500 companies including major automakers around the world and the aircraft, electronics and railway industries.
Comments will be moderated. Keep comments relevant to the article. Remarks containing abusive and obscene language, personal attacks of any kind or promotion will be removed and the user banned. Final decision will be at the discretion of the Taipei Times.