Fed to ease rules on smaller banks: Yellen
US Federal Reserve Chair Janet Yellen on Wednesday said that the Fed is committed to making sure that the regulations it imposes on the nation's community banks are not overly burdensome, including a proposed rule issued last week that would simplify requirements governing how much capital these banks must hold.
In remarks to a community banking conference in St Louis, Missouri, Yellen said the proposed new rule on capital requirements was the latest effort by regulators to ease burdens on smaller banks.
The Fed is seeking to increase the number of community banks eligible for less frequent examinations and loosen requirements for property appraisals on commercial real-estate transactions, she said.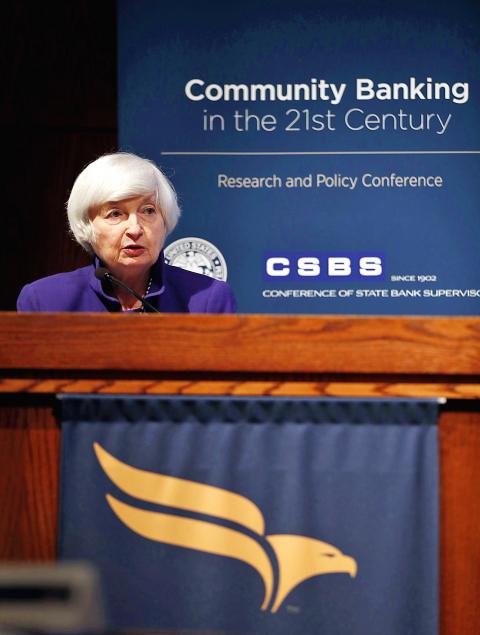 US Federal Reserve Chair Janet Yellen delivers opening remarks at a community banking conference on Wednesday at the Federal Reserve Bank of St Louis, Missouri.
Photo: AP
Yellen has defended the tougher regulations imposed following the 2008 banking crisis, but has said there is room to ease regulatory burdens on smaller banks.
"For community banks, which by and large avoided the risky business practices that contributed to the financial crisis, we have been focused on making sure that much-needed improvements to regulation and supervision are appropriate," Yellen said.
During last year's election campaign, then-Republican candidate Donald Trump attacked the Dodd-Frank Act passed by Congress in 2010 to prevent future crises as a disaster that he said had stifled the economy by limiting bank lending.
However, Yellen has said that the major parts of Dodd-Frank have made the financial system safer and should be retained.
Separately, Fed Vice Chairman Stanley Fischer continues to expect a tightening US labor market would lift wages and prices even though the process could take longer than anticipated.
"I still believe we will have higher inflation," Fischer said in an interview with Tom Keene on Bloomberg Television. "The basic mechanism here is unemployment is declining all the time, wages will start going up at some stage."
"The experience many of us have, including myself, is you have to wait a long time — usually longer than you expected to wait — for something to happen," said Fischer, who has announced he would leave the Fed on or around Friday next week. "But then, if it's a very basic force, namely increasing employment, increasing wages, it'll show up."
Inflation measured by the Fed's preferred price gauge was 1.4 percent in the 12 months through August and has been below its 2 percent target for most of the past five years.
The jobless rate stood at 4.4 percent in August.
The Fed slashed interest rates to zero during the financial crisis and has only hiked four times since beginning its tightening cycle in December 2015, including in March and June, with another move forecast before the end of this year.
Comments will be moderated. Keep comments relevant to the article. Remarks containing abusive and obscene language, personal attacks of any kind or promotion will be removed and the user banned. Final decision will be at the discretion of the Taipei Times.