EU could start screening foreign investment: Juncker
European Commission President Jean-Claude Juncker yesterday said he would seek powers to screen foreign takeovers in Europe's strategic sectors, amid concern about investment by China.
"We are not naive free traders. Europe will defend its strategic interests with an EU framework for investment screening," Juncker said in his annual State of the Union speech to the European Parliament in Strasbourg, France.
"If a foreign, state-owned company wants to buy a strategic port, or part of our energy infrastructure ... this must be done transparently, with scrutiny and debate," he said.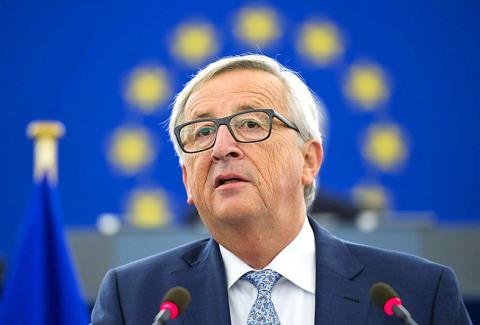 European Commission President Jean-Claude Juncker delivers his State of the Union speech at the European Parliament in Strasbourg, France, yesterday.
Photo: AFP
"It is our responsibility to know what is happening inside our countries, so that we are in a position to ensure our collective security," Juncker said.
The plan fulfils a request by French President Emmanuel Macron, backed by Germany and Italy, that Brussels draw up a strategy to counter a wave of takeovers by Chinese companies in Europe.
German concerns were sparked by recent acquisitions in technology, most notably household goods maker Midea's takeover of industrial robotics firm Kuka last year.
German leaders were alarmed to see valuable knowhow being transferred abroad, especially as robots become increasingly critical in the country's crucial manufacturing center.
Macron has blamed Europe for forgetting EU citizens who are worried about the effects of globalization, helping stoke the populist sentiment that brought on Brexit.
However, reports said that Juncker's plan would be non-binding, amid concern in smaller EU nations about losing Beijing's investments in their economies.
Juncker insisted that Europe remained open for business and would seek to complete trade deals with Australia and New Zealand by the end of his mandate.
Comments will be moderated. Keep comments relevant to the article. Remarks containing abusive and obscene language, personal attacks of any kind or promotion will be removed and the user banned. Final decision will be at the discretion of the Taipei Times.