Uber to end tracking of riders after a trip: official
PRIVACY: The feature drew heavy criticism when it was added last year, eliminating the option for users to limit data gathering to only when the app is in use
Uber Technologies Inc is pulling a heavily criticized feature from its app that allowed it to track riders for up to 5 minutes after a trip, its security chief said, as the ride-services company tries to fix its poor reputation for customer privacy.
The change, which restores users' ability to share location data only while using the app, was to be announced yesterday and rolled out to Apple Inc iPhone users starting this week.
It comes as Uber tries to recover from a series of crises culminating in the ouster of former chief executive Travis Kalanick and other top executives.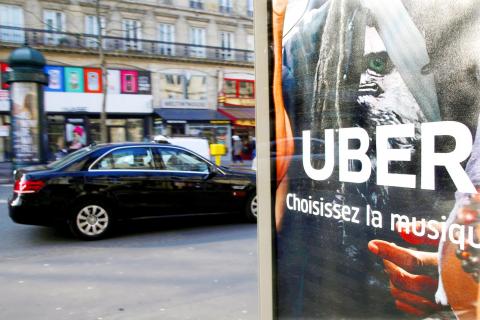 A taxi passes by an advertisement for Uber's car and ride-sharing service displayed on a bus stop in Paris on March 11 last year.
Photo: Reuters
The location-tracking update is unrelated to executive changes, Uber chief security officer Joe Sullivan said in an interview.
Sullivan and his team of about 500 have been working to beef up customer privacy at Uber since he joined in 2015.
"We've been building through the turmoil and challenges because we already had our mandate," said Sullivan, who is a member of the executive leadership team that has been co-running Uber since Kalanick left in June.
An update to the app made in November last year eliminated the option for users to limit data gathering to only when the app is in use, instead forcing them to choose between letting Uber always collect location data or never collect it.
Uber said it needed permission to always gather data in order to track riders for 5 minutes after a trip was completed, which the company believed could help in ensuring customers' physical safety. The option to never track required riders to manually enter pickup and drop-off addresses.
However, the changes were met with swift criticism by some users and privacy advocates who called them a breach of user trust by a company already under fire for how it collects and uses customers' data.
Uber said it never actually began post-trip tracking for iPhone users and suspended it for Android users.
Sullivan said Uber made a mistake by asking for more information from users without making clear what value Uber would offer in return.
If Uber decides that tracking a rider's location for 5 minutes is valuable in the future, it will seek to explain what the value is and allow customers to opt in to the setting, he said.
Sullivan said Uber was committed to privacy, but had previously suffered "a lack of expertise" in the area.
The change comes two weeks after Uber settled a US Federal Trade Commission (FTC) complaint that the company failed to protect the personal information of drivers and passengers, and was deceptive about its efforts to prevent snooping by its employees.
Uber agreed to conduct an audit every two years for the next 20 years to ensure compliance with FTC requirements.
The location-tracking changes will initially only be available to iPhone users, but Uber intends to bring parity to Android devices, Sullivan said.
The changes are part of a series of updates expected in the coming year to improve privacy, security and transparency at Uber, Sullivan said.
Comments will be moderated. Keep comments relevant to the article. Remarks containing abusive and obscene language, personal attacks of any kind or promotion will be removed and the user banned. Final decision will be at the discretion of the Taipei Times.