SinoPac sees no more losses from irregular loans
CHANGES: The company plans to boost corporate governance, including holding routine audits every three months, its new president said
SinoPac Financial Holdings Co (永豐金控) yesterday said that it expects no further losses from a series of internal control lapses and irregular loans that has rocked the company.
The company, which has extended US$135 million in loans to Sunpower Development Group (三寶建設集團), said that the debt is fully collateralized, and repayment would be furnished on schedule.
The borrowers have been cooperative and have demonstrated their repayment capabilities, newly appointed company president Chen Chia-hsien (陳嘉賢) said at a press conference in Taipei.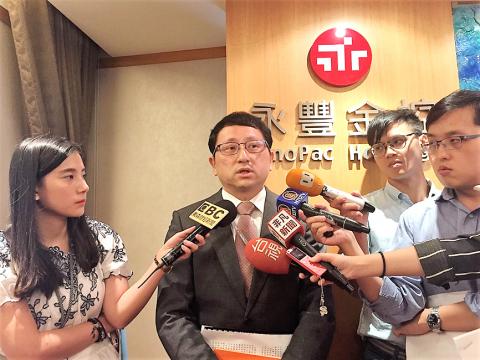 SinoPac Financial Holdings Co's new president Chen Chia-hsien talks to reporters in Taipei yesterday.
Photo: Wang Meng-lun, Taipei Times
The loans, which were made between subsidiaries controlled by SinoPac Leasing Corp (永豐金租賃) and Sunpower Development to fund investments in 1788 International Center, a high-end office building in Shanghai's Jingan District, later led to an investigation resulting in the departure and indictment of SinoPac Financial chairman Ho Shou-chuan (何壽川), who might face a 12-year sentence.
Debt repayment would hinge on the sale of Ho's investment venture in the Shanghai property, which has been progressing as expected, market observers have said.
Chen outlined the company's plans to improve corporate governance and compliance, as well as its financial condition.
He added that the conglomerate would begin holding routine audits every three months and meet with consultants.
SinoPac would also invest in information technology and digitize more of its business processes to provide first-line employees with improved auditing rules to detect irregularities, Chen said.
SinoPac Leasing has also removed a rule that allows its board of directors to make exceptions and clear loans that were denied by the auditing department, Chen said, adding that the board now includes a number of independent directors to improve oversight.
"We are rebuilding SinoPac Financial back into a lean and healthy company," Chen said, adding that the company would cut the number of non-critical subsidiaries from 36 to about 20.
The company has also sold off its US-based subsidiary, Far East National Bank (美國遠東國民銀行), to NASDAQ-listed Cathay General Bancorp (國泰萬通金控), to focus on business growth in Taiwan, China and countries included in the government's New Southbound Policy, as opposed to North America, Chen said.
Vietnam's economic plans and rapid growth have attracted Taiwanese and Chinese businesses to set up manufacturing bases in the country, leading to prospective opportunities for the company, he said.
The company reported that net income in the first half dropped 12.22 percent annually to NT$4.37 billion (US$144.14 million), while its total assets rose 4.4 percent annually to 1.67 trillion. Earnings per share were NT$0.54.
Comments will be moderated. Keep comments relevant to the article. Remarks containing abusive and obscene language, personal attacks of any kind or promotion will be removed and the user banned. Final decision will be at the discretion of the Taipei Times.