Asia Cement defends operations
In response to mounting criticism over a controversial extension of mining rights, Asia Cement Corp (亞泥) yesterday defended its mining operations in Taroko National Park, saying that it would conduct an environmental impact assessment if necessary.
"We began mining in the area before the national park was established [in 1986]," Douglas Hsu (徐旭東), chairman of Far Eastern Group (遠東集團), the cement maker's parent company, said at Asia Cement's annual shareholders' meeting in Taipei.
Asia Cement has operated in Hualien County's Sincheng Township (新城) for 60 years, including a quarry with 25 hectares overlapping land in the park, company data show.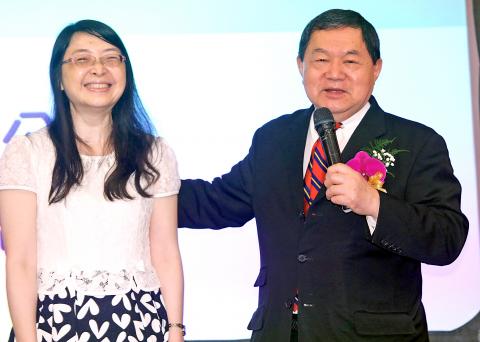 Far Eastern Group chairman Douglas Hsu, right, acknowledges an employee at Asia Cement Corp's annual shareholders' meeting in Taipei yesterday.
Photo: CNA
Asked if the Sincheng site would undergo an environmental impact assessment, Hsu said the firm would comply with new regulations, referring to possible amendments to the Mining Act (礦業法).
The Ministry of Economic Affairs in March approved a 20-year extension to Asia Cement's mining rights in Sincheng without requiring an environmental impact assessment.
Amendments to the act — which would require that all approved mining projects without an assessment pass a supplementary assessment — are expected to be submitted to the Legislative Yuan in September, the Cabinet has said.
An ongoing review of 42 mining project extension applications is to be suspended until the law is amended, the Cabinet said in a statement on June 14.
"We are doing nothing wrong," Hsu told reporters on the sidelines of the meeting, adding that the firm has for several years been conducting large-scale afforestation at the Sincheng quarry.
Earlier this month, Asia Cement announced that it would reduce its mining operations in Hualien by 40 percent to nearly 250 hectares, 150 hectares less than the 400 hectares approved by the government.
Taiwan should not be entirely reliant on cement imports, as a nation cannot develop infrastructure without local cement suppliers, Hsu said.
He also defended his earlier claim that a deepened quarry could be transformed into a lake and used for fish farming.
Deeper excavation at mining sites is a common practice in many developed nations, such as Japan and Switzerland, he said.
Asia Cement shares yesterday remained unchanged at NT$26.3 in Taipei trading.
Comments will be moderated. Keep comments relevant to the article. Remarks containing abusive and obscene language, personal attacks of any kind or promotion will be removed and the user banned. Final decision will be at the discretion of the Taipei Times.