Phison opens new facility in Miaoli
INTELLIGENT INVESTMENT: The government is to invest NT$4 billion in developing AI over the next four years, Minister of Science and Technology Chen Liang-gee said
Phison Electronics Corp (群聯電子), a supplier of NAND flash memory controllers and modules, yesterday held a ceremony to celebrate the completion of a NT$800 million (US$26.33 million) facility in Miaoli County's Jhunan Township (竹南).
The construction of the facility, which could house 2,300 employees, took less than seven months to complete, Phison said.
The company has said it plans to increase its Taiwanese workforce of about 1,200 people.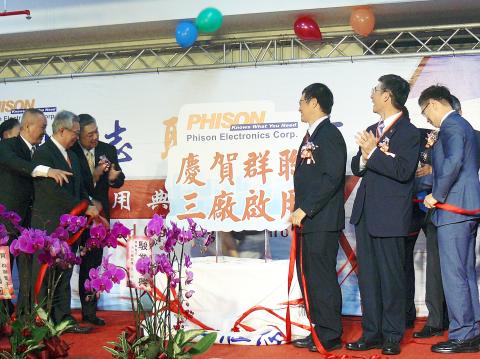 Phison Electronics Corp chairman Pua Khein-seng, third right, and other officials hold a news conference yesterday in Miaoli to celebrate the completion of the company's new manufacturing facility.
Photo: CNA
"Demand has come back this week — our major customers have placed big orders to meet growing demand for USBs and solid-state drives," Phison chairman Pua Khein-seng (潘健成) told a news briefing following the ceremony.
"China shows the strongest growth momentum among all areas," Pua said. "We feel demand is improving month-by-month."
Phison in November last year forecast solid NAND flash demand for the whole of this year.
Pua yesterday said NAND chip supply continues to be tight this year based on messages from the company's major chip suppliers, including Toshiba Corp.
The company as of last month had built inventories totaling NT$9 billion in preparation for the peak season in the second half, Pua said.
He attributed the mismatched supply and demand to increasingly larger memory space for smartphones, servers and gaming PCs as well as to the bumpy technology upgrade to 3D NAND chips.
For instance, a South Korean NAND chipmaker suffered a setback in a technology upgrade to 64-layer 3D chips and was forced to produce less-advanced 48-layer chips instead, he said.
Pua said the disparity between supply and demand is expected to catalyze moderate price hikes for NAND chips next quarter, after a short break this quarter.
That would be a boon for Phison's business, as robust demand and better prices might carry the company's net profit to a record high this year, he said.
Yuanta Securities Investment Consulting Co (元大投顧) said in a report on Tuesday that Phison is to be a major beneficiary of the uptrend in the NAND chip industry.
Yuanta projected that Phison's net profit would reach an all-time high this quarter at NT$1.49 billion, or NT$7.52 per share.
This year as a whole, Phison is to grow its net profit by 19 percent to NT$5.73 billion, or NT$29.03 per share, compared with last year's NT$4.8 billion, or NT$24.67 per share, Yuanta said.
Phison shares have surged 37 percent this year, outperforming the broader market's 7.62 percent rise over the period.
Its stock closed at NT$345.5 yesterday.
Separately, Minister of Science and Technology Chen Liang-gee (陳良基) yesterday at the ceremony said that the ministry plans to invest NT$4 billion in developing artificial intelligence (AI)-related technologies over the next four years.
The investment would be used to develop new chips to power AI on end devices and to develop next-generation memory chips that could be used for nonvolatile storage featuring ultra-low power usage and quick read and access, Chen said.
The semiconductor budget is part of the government's NT$882.49 billion Forward-looking Infrastructure Development Program.
Comments will be moderated. Keep comments relevant to the article. Remarks containing abusive and obscene language, personal attacks of any kind or promotion will be removed and the user banned. Final decision will be at the discretion of the Taipei Times.