HTC chief promises good financial results next year
HTC Corp (宏達電) chairwoman and chief executive officer Cher Wang (王雪紅) yesterday vowed that the smartphone company would deliver good financial results next year, after posting consecutive losses over the past two years.
"I am really sorry that the company failed to be profitable. I have taken over the position of chief executive officer for two years now, and I believe that HTC can deliver satisfactory results for shareholders in the third year [next year]," Wang said at the company's annual general meeting in Taoyuan.
Wang made the remarks in response to questions by more than 15 shareholders on when HTC could swing back into black and distribute dividends.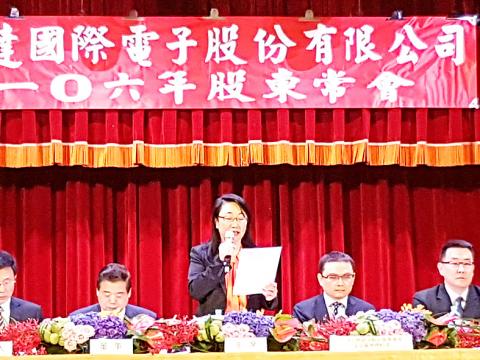 HTC chairwoman Cher Wang yesterday speaks at a shareholders' meeting in Taoyuan.
Photo: Wang I-hung, Taipei Times
"All we care about is HTC's profitability and stock price performance. How much longer do we have to wait? And what are your strategies for operations to pick up?" asked an 80-year-old shareholder, who said he used his pension to buy 5,000 HTC shares at more than NT$800 per share in 2012.
HTC shares closed at NT$68.6 in Taipei trading yesterday, up 0.59 percent from the previous session.
The company posted net losses of NT$15.53 billion (US$513.44 million at the current exchange rate) in 2015 and NT$10.56 billion last year.
In the first quarter of this year, it posted net losses of NT$2.03 billion, the eighth straight unprofitable quarter, according to its filings with the Taiwan Stock Exchange.
HTC's priority is to lower its operating costs, such as marketing expense for new smartphones, HTC president of smartphone and connected devices business Chang Chia-lin (張嘉臨) said.
Operating expenses dropped 33.33 percent to NT$24 billion last year from NT$36 billion a year earlier, Chang said, adding that the company aims to keep reducing the costs this year.
"Instead of hiring advertising firms to promote HTC products, we are now doing advertising on our own," Chang said.
The marketing expense for the latest flagship HTC U11 was only a "small portion" of that spent on the HTC M9 in 2015, he said.
The company has also decided to introduce only three to four high-end handsets this year and beyond to conserve resources on research and development (R&D) and marketing, Chang said.
It is also because HTC has realized that large shipments of low and mid-end smartphones are not helpful to its finances, he said.
"High-priced flagship smartphones is HTC's chance to increase profitability," he added.
HTC will allocate its R&D resources on technologies and products related to 5G mobile and wireless communication network, such as virtual reality (VR), to prepare ahead of the launch of 5G services in 2020, he said.
HTC remains optimistic that its VR business would become its main growth catalyst over the long term, Wang said, adding that the company invested NT$3 billion in the segment last year and its Vive headset is regarded as the best product in the global VR market.
"HTC Vive secured the largest market share of the global VR industry by revenue last year. We aim to keep our leading position by investing in VR software and hardware," Wang said, declining to disclose its VR headset revenue and shipments.
Comments will be moderated. Keep comments relevant to the article. Remarks containing abusive and obscene language, personal attacks of any kind or promotion will be removed and the user banned. Final decision will be at the discretion of the Taipei Times.