MediaTek looks to regain market share
'RECOVERY PLAN': The company is developing a cost-effective modem architecture to go with its mid-range mobile phone chips, CEO Tsai Ming-kai told a media briefing
MediaTek Inc (聯發科) yesterday said it is seeking to recoup its market position in the next one to two years by improving its handset chip's cost structure and increasing its penetration into telecoms beyond China by tapping into new co-chief executive officer Rick Tsai's (蔡力行) semiconductor experience.
The world's No. 3 chip designer last year suffered a setback in terms of market share and gross margin, which it attributed to a host of factors, including chip supply constraints, key component price hikes and product planning flaws.
Unveiling its "recovery plan," MediaTek chairman and co-chief executive officer Tsai Ming-kai (蔡明介) told a media briefing in Hsinchu that the company is developing a new cost-effective modem architecture to go with its mid-range mobile phone chips, dubbed Helio P series, and entry-level 4G chips.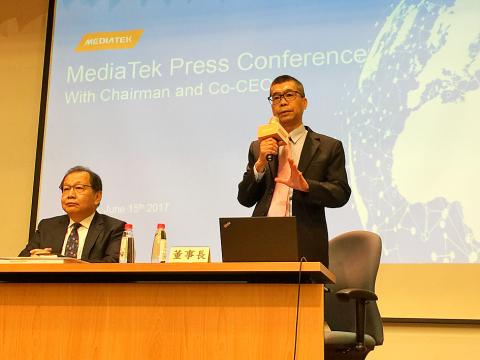 MediaTek chairman Tsai Ming-kai yesterday speaks at a news conference in Hsinchu.
Photo: Cho I-chun, Taipei Times
The new modem architecture is scheduled to hit the market in the second half of this year, which is expected to significantly improve the firm's chip cost structure, Tsai Ming-kai said.
"The chips have been adopted by China's first-tier handset vendors," he said. "We hope the company's gross margin and market share will pick up as a result."
However, he said he does not expect "a V-shaped recovery" soon, because it usually takes one to one-and-a-half years to see a new chip's yield results.
"This is a norm in the technology sector," he said.
On top of that, MediaTek is working with key telecom companies in Japan and North America to broaden its customer portfolio beyond China, Rick Tsai said.
Last year, MediaTek clinched its first handset chip orders from Samsung Electronics Co and shipped its LTE smartphone chips to the US, the company said.
MediaTek shipped a total of 550 million chips used in smartphones and tablets last year, setting an all-time high.
Rick Tsai said he would help MediaTek find new growth drivers as smartphone growth slows down.
"The company needs to search for new growth engines beyond traditional application processors and system-on-chip solutions," he said.
The catalyst for growth over the next two to five years would be total semiconductor content and applications for mobile phones, he added.
Asked when the company decided to recruit Rick Tsai, Tsai Ming-kai said he approached him in December last year after learning from news reports that he was to leave his post as chairman of Chugnhwa Telecom Co (中華電信).
Rick Tsai had previously served as president and chief executive officer of Taiwan Semiconductor Manufacturing Co (TSMC, 台積電), the world's top contract chipmaker, from 2005 to 2009.
"I made a decision any chairman from the world's top 10 semiconductor companies would do no matter what situation MediaTek was facing, good or bad," Tsai Ming-kai said.
Comments will be moderated. Keep comments relevant to the article. Remarks containing abusive and obscene language, personal attacks of any kind or promotion will be removed and the user banned. Final decision will be at the discretion of the Taipei Times.