Linde, Praxair agree on merger to create global gases leader
The boards of Linde AG and Praxair Inc on Thursday voted to merge, creating a US$73 billion global industrial gases leader in what is likely to be the last in a wave of combinations that has resulted in a highly consolidated market.
The deal combines US firm Praxair's operational efficiency and strength in the Americas with the leading technology of Germany's Linde and its strong presence in Europe and Asia, overtaking main competitor France's Air Liquide SA.
News of the merger, which would reunite a global Linde group that was split a century ago by World War I, sent Praxair shares in the US to a record high. The stock closed up 1.4 percent at US$134.09.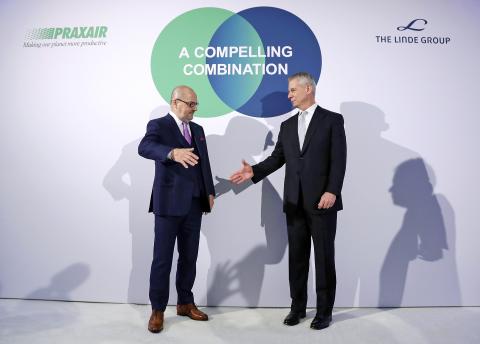 Linde CEO Aldo Belloni, left, and Praxair CEO Steve Angel pose for a handshake in Munich, Germany, yesterday.
Photo: AP
The all-share merger of equals, which still has to be approved by a majority of Praxair's shareholders, represents a triumph for Linde's Wolfgang Reitzle, a former CEO who returned as chairman to seal the deal.
Linde's shareholders will not vote on the deal, but 75 percent must tender their shares to the new company for the deal to go through.
Reitzle, who effectively discarded Linde's former CEO and finance chief to push through the merger after a failed attempt last year, was spared from having to use his casting vote as chairman when labor opposition crumbled at the last minute — as reported by Reuters on Wednesday.
Labor delegates, who enjoy equal representation with shareholder delegates under German law on Linde's supervisory board, had threatened to scupper the deal, but in the end were divided by German job guarantees conditional on the merger.
Linde's supervisory board voted six to five in favor of the merger, with one labor representative abstaining, four sources familiar with the matter said.
The new holding company will be incorporated in Ireland — where workers do not have the codetermination rights that they do in Germany over company strategy.
Most governance activities, including board meetings, will take place in Britain.
The companies raised their cost-savings target from the merger to US$1.2 billion from US$1 billion within three years — including efficiency programs already initiated.
The deal is expected to close in the second half of next year, the two companies said.
Reitzle is to become chairman of the merged company, while Praxair CEO Steve Angel will be chief executive.
Linde shareholders are to be offered 1.54 shares in the new company for every Linde share they hold, while Praxair shareholders are to be offered 1 for 1 — leading to a roughly 50:50 ownership split.
Comments will be moderated. Keep comments relevant to the article. Remarks containing abusive and obscene language, personal attacks of any kind or promotion will be removed and the user banned. Final decision will be at the discretion of the Taipei Times.