Pegatron showcases its new electronic car cockpit
'REVOLUTION': The firm spent several years on research and development before creating the cockpit, which integrates navigation systems with heads-up displays
Pegatron Corp (和碩), which assembles electronics from Apple Inc's iPhones to Sony Corp's game consoles, yesterday showcased its latest electronic car cockpit that integrates infotainment, instrument clusters and information displays as part of its efforts to expand into the automotive electronics sector.
Automotive is one of the company's core businesses, in addition to notebooks and Internet of Things applications, Pegatron said, adding that it focuses on enhancing its technological capabilities in the three areas.
"It is becoming a trend for vehicles to be equipped with all-digital cockpits. Almost all functions will be done through displays," Pegatron chief technology officer Steven Huang (黃中于) told a media briefing yesterday. "This is a revolution for the automotive industry."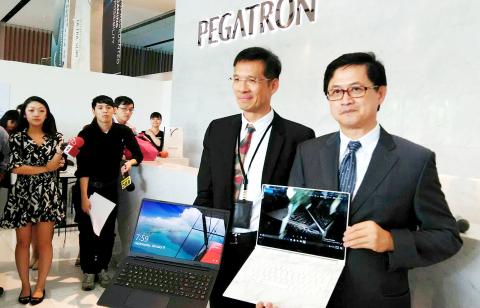 Pegatron chairman Tung Tzu-hsien, right, yesterday holds up the company's new laptop "Clarinet," the world's thinnest laptop, at a product launch in Taipei.
Photo: CNA
The electronic cockpit is the latest advance after Pegatron spent several years on the research and development of automotive electronics, he said.
The cockpit integrates a navigation system with heads-up displays, but lacks advanced driver assistance systems (ADAS), which would be supplied by automakers.
Pegatron said it is developing its own ADAS technology as well.
The cockpit is ready, but it needs to pass certification before shipment, the company said, without disclosing when the product would be released.
"We are not in hurry," Pegatron chairman Tung Tzu-hsien (童子賢) said. "Automotive is a different sector compared with small electronics. It has longer product cycles... Some European automakers launch only one new model in seven or eight years."
It takes time to obtain certification from automakers, Tung said, adding that the product will also match automaker's new road maps.
Separately, Huang yesterday commented on Microsoft Corp's newly announced cooperation with Qualcomm Inc to sell Windows 10 laptops running on Qualcomm's mobile processor that is based on ARM Holdings PLC's design.
All laptops on the global market are powered by Intel Corp's processors.
Qualcomm's processor delivers better thermal management, but its performance lags Intel's, Tung said.
"We will spend half a year to observe the adoption" of the new model, Huang said, given Microsoft's failure to push Windows RT in 2012.
Comments will be moderated. Keep comments relevant to the article. Remarks containing abusive and obscene language, personal attacks of any kind or promotion will be removed and the user banned. Final decision will be at the discretion of the Taipei Times.