INTERVIEW: 'Southbound policy' needs focus: TIER official
One year after President Tsai Ing-wen's administration unveiled its 'new southbound policy,' questions linger over its content and what the policy plans to achieve and how. Taiwan Institute of Economic Research (TIER) vice president Chiou Jiunn-rong highlighted the need for a focus and a new business model for the nation's southward expansion in an interview with 'Taipei Times' staff reporter Crystal Hsu on Thursday
Taipei Times (TT): What does the government's "new southbound policy" aim to achieve?
Chiou Jiunn-rong (邱俊榮): It aims to help local firms cut dependence on China and take advantage of the rapid economic growth in Southeast and South Asia. Most Taiwanese firms focus on producing intermediate goods and services between industries for resale or for the production of other goods.
Under the policy, we should see those nations as both production bases and end markets.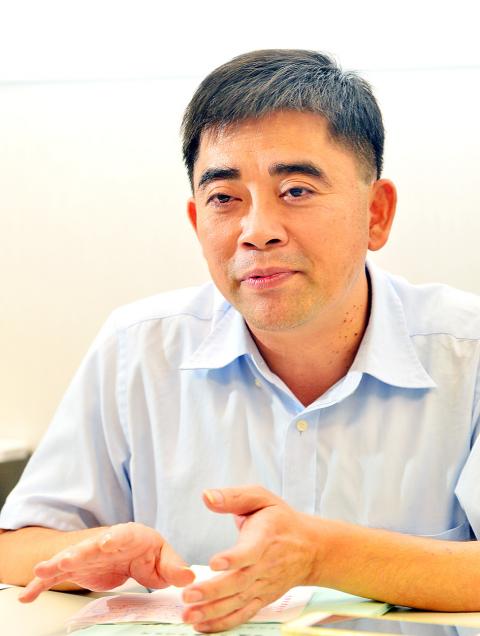 Taiwan Institute of Economic Research vice president Chiou Jiunn-rong is pictured during an interview in his Taipei office on Nov. 2 last year.
Photo: Wang Yi-Sung, Taipei Times
Under the former Chinese Nationalist Party (KMT) administration, local manufacturers were encouraged to produce whatever the Chinese market needed, namely low-priced petrochemical, auto parts and other upstream products. The cross-strait's Economic Cooperation Framework Agreement (ECFA ) focused on a few sectors and misallocated the nation's resources as seen in the early harvest list.
Under the policy, firms would provide clients total solutions by selling a combination of hardware devices and software applications, or a combination of products and their supporting services.
For example, firms that sell LED street lighting devices should also help clients install sensors and analyze traffic flows. Bikemakers might help export Taipei's popular bicycle rental system. Such a business model would allow the nation to restructure its export-oriented economy to encompass more than product sales.
TT: Is the "new southbound policy" wanting in clarity and concrete details?
Chiou: I have heard such complaints. The government either has not drawn up detailed plans or it deliberately remains vague to avoid obstruction from China.
Beijing has thwarted Taiwan's efforts to ink memorandums of understanding with trading partners.
In my view, the government had better be cautious and stay ambiguous so that China does not know its moves.
TT: Does Taiwan have sufficient resources, capital and talent to expand in all 18 markets, including Australia?
Chiou: While the more, the better, I do not think Taiwanese firms can have meaningful expansion in all 18 nations. Personally, I think India and Indonesia should suffice as main targets.
Malaysia might have barriers to entry due to its political loyalty to China. Bilateral civilian exchanges have been very limited.
Thailand has shown rapid economic progress over the past few years, but it is close to Japan.
Average income levels remain wanting in Vietnam.
The Philippines has good potential in building into a domestic market, but it might keep Taiwan at a distance to pursue a friendly relationship with China. In the long run, the Philippines remains worthy of seeking industrial and economic cooperation.
Politically, Southeast Asian nations are not as mature as Taiwan in terms of democratic development. A change in administration often means a shake-up in policy direction and backroom wrangling is common.
The government should help conduct surveys and gather business intelligence in an effort to guide Taiwanese investors in the region.
Generally, local firms know little about ASEAN due to the pro-China policy of the former administration.
TT: Why do you recommend Indonesia?
Chiou: Taiwan should forge close trade ties with geographically close nations as all other countries have done. Of the ASEAN markets, Indonesia is least concerned about the "one-China" constraint and shows the most interest in the policy. It has a large population, rich natural resources and an industry with room for complimentary growth between Taiwan and Indonesia.
Indonesia is surrounded by the ocean and is ideal for developing the aquaculture industry. Taiwan could export its expertise in this field. Some local firms have made inroads there.
The solar industry could also play a role by helping Indonesia's aquafarmers use the alternative energy source. Taiwan has a competitive edge in solar energy development and supply.
In addition, Taiwan could compete for contracts to upgrade Indonesia's railway and highway systems, expand its port capacity and enhance other infrastructure.
Indonesia talked about setting aside an islet for Taiwanese firms to develop when former president Chen Shui-bian (陳水扁) was in power.
TT: How can Taiwan and India build each other up?
Chiou: Cooperation between India and Taiwan would take on the traditional investment-driven pattern. India also has a large population and has shown a robust economic performance over the past few years. Indian Prime Minister Narendra Modi is trying to attract foreign investment and capital, and has relaxed regulatory hurdles to speed up the process.
Taiwan and India might join forces in tapping e-commerce and Internet of Things (IoT) businesses. Software applications are dominating the IoT era, explaining why Facebook Inc and Alphabet Inc's Google are such a huge success.
Taiwan is lagging in the area, because it has assigned too much importance to the development and production of hardware and hence the pursuit of productivity enhancement. It will take some time to cast off the mentality.
India has the world's largest pool of software talent. Hon Hai Precision Industry Co (鴻海精密) and Pegatron Corp (和碩) have announced plans to set up plants in India to better serve their customers. The large companies can help smaller Taiwanese firms gain a foothold in India.
While government assistance is not needed for big companies to expand their territory, medium and small-sized enterprises depend heavily on government assistance due to their lack of financial resources.
TT: How can local governments and non-governmental institutions help advance the policy?
Chiou: Local administrators in Taoyuan, Taichung, Tainan and Kaohsiung have taken business representatives with them to ASEAN members in a bid to secure orders.
For example, Taichung plans to promote the export of machinery tools to capitalize on the trend of "smart" production. The industry can limit exports to low-end technology to ease concerns about an industry exodus. Taiwan's machinery tools compete with rivals from Japan and Italy.
Cities in southern Taiwan plan to sell processed agricultural products to the region, because the nation enjoys advantages in terms of food processing technology.
The policy does not seek to outsource pollution to Southeast Asia or elsewhere. The practice has proved impractical and expensive as evidenced by the heavy fine imposed by Vietnam on the Formosa Plastics Group (台塑集團) steel mill in central Vietnam.
Southeast Asian nations generally are skeptical of foreign firms, especially from Taiwan, due to the "one China" policy and concerns that they are seeking to exploit their low land and labor costs. We need to spend time building trust with local people and to develop a new and sustainable business model.
Comments will be moderated. Keep comments relevant to the article. Remarks containing abusive and obscene language, personal attacks of any kind or promotion will be removed and the user banned. Final decision will be at the discretion of the Taipei Times.