Cuba travel offers challenges: report
Cuba represents a "huge," but challenging opportunity for US cruise, airline and hotel companies as US visitors to the Caribbean island could increase as much as sevenfold by 2025, a report by the Boston Consulting Group (BCG) said.
The study published yesterday forecast that up to 2 million Americans could visit, up from 285,000 last year.
Given that tourism infrastructure is already creaking, that means there are business opportunities aplenty, but US companies must learn to navigate a centrally planned economy with its quirks.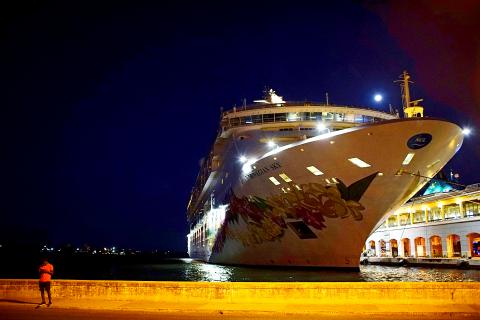 A man stands near the Norwegian Sky cruise ship in Havana, Cuba, on Tuesday.
Photo: Reuters
US travel to Cuba has already surged, albeit from low levels, in the past two years since the former Cold War advesaries announced a detente and the administration of former US president Barack Obama eased travel restrictions to the island.
"The reality is that US travel to Cuba is in its nascent stages and all the players are still learning how to make it work," the report read. "Success, as with most things Cuban, will require unusual — and often unorthodox — approaches."
BCG did not address the uncertainty cast by the election of US President Donald Trump, who has threatened to roll back on the normalization of relations.
The Cuban government aims to double hotel capacity by 2030 through partnerships with foreign companies, it said.
So far, Starwood is the only US hotel company operating in Cuba.
Instilling a hospitality mindset in tourism workers who were mostly state employees, even at US-owned companies, on low wages could be challenging, it said.
Poor service sat particularly badly when rooms were "extremely expensive for the region."
"The risk is that US travelers who visit Cuba and stay at a hotel that is part of a brand they trust will experience prices much higher than usual," the report read.
There is also an opportunity to expand cruise lines to Cuba, BCG said.
Nearly two-thirds of 500 US travelers surveyed would consider one to Cuba.
Several US cruise operators have started offering lines to Cuba in the past year.
They have to deal with different challenges, such as including a cultural element to their trips to comply with US government rules on travel to Cuba, BCG said.
US companies should work with the Cuban government to resolve some of these issues, it said.
As for airlines, they needed to deal with excess demand for flights to Havana. They could carry out campaigns to lure Americans to other Cuban cities and tap into Cuban demand for flights to the US, BCG said.
Comments will be moderated. Keep comments relevant to the article. Remarks containing abusive and obscene language, personal attacks of any kind or promotion will be removed and the user banned. Final decision will be at the discretion of the Taipei Times.