ADB seeks to cooperate, not compete with AIIB
ONE BELT, ONE ROAD: ADB's president said the vast need for infrastructure finance in Asia meant the two banks could cooperate and complement each other
The Japanese-led Asian Development Bank (ADB) is willing to cooperate, rather than compete, with China's development finance and infrastructure plans under its "One Belt, One Road" initiative, the bank's head said yesterday.
ADB president Takehiko Nakao made the comments at the start of the bank's four-day annual meeting in Yokohama, Japan, where China's rising influence is expected to be among key topics of discussion.
His public comments align with those of policymakers seeking to dispel the view Japan and China are competing for influence through development finance.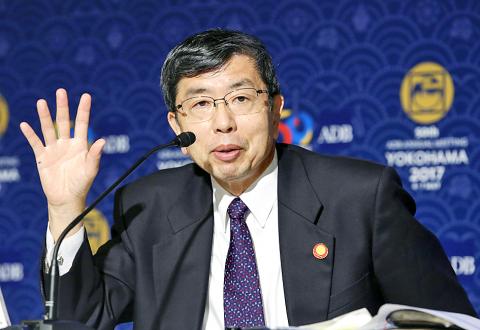 Asian Development Bank president Takehiko Nakao speaks at the start of a news conference on the bank's 50th annual meeting in Yokohama, Tokyo, yesterday.
Photo: EPA
However, Nakao warned creditors about the costs of projects in economies that are targeted by China's high-profile One Belt, One Road initiatives.
"It's a good idea to connect countries and to promote activities in this region," Nakao told reporters, when asked how the ADB should deal with the Chinese initiative.
"We can cooperate because we have similar ideas," he told a news conference.
He added that he discussed areas of cooperation with Chinese Minister of Finance Xiao Jie (肖捷), who will be in Tokyo for a meeting with his counterparts from Japan, South Korea and Southeast Asian nations today.
The ADB is coming off a record year for lending and is the region's major financier for development, but its meeting could quickly fade as attention turns to the One Belt, One Road summit on May 14 and 15.
Many One Belt, One Road projects are supported by China's state-owned banks and its fledgling regional lender, the Asia Infrastructure Investment Bank (AIIB), which could become a potential rival of the Manila-based ADB, but for now is much smaller.
Nakao said the vast need of infrastructure finance in Asia meant that the ADB and the AIIB could cooperate and complement each other, instead of considering each other as rivals.
"Because we have different objectives and different kind of ideas about management, I think we can complement each other," he said. "There are many things in common so we can cooperate."
The ADB and the AIIB have agreed to cofinance three projects — two last year and one this year, Nakao said.
The two lenders have discussed how they can use local currencies for financing instead of US dollars, how they can enhance expertise by their staff and how they can secure environmental and social safeguards, Nakao said.
The ADB was established as a Japanese initiative in 1966 to offer development assistance in Asia. All of the ADB heads have been Japanese.
The AIIB is viewed by some as a challenger to both the Western-dominated World Bank and the ADB, which is primarily funded by Japan and the US.
Partly to differentiate itself, the ADB has broadened its activities beyond infrastructure, such as financing of steps for poverty reduction, healthcare and education.
The growing prominence of China in Asian development finance, reflected by the creation of AIIB, has alarmed the Japanese government, enough to promote "quality" infrastructure finance as its key initiative in aiding developing Asian economies.
However, he said the ADB needed to pay attention to the "economic feasibility" of some One Belt, One Road-linked projects, particularly in sparsely populated Central Asian nations.
Despite signs of cooperation, some analysts say China's muscle-flexing is making business harder for Japanese companies.
"Both China and Japan are active in development financing and infrastructure financing in the region. We've seen some competition in the region over projects," Fitch Ratings director Mervyn Tang said.
"For a while, Japan really was the core financier. When you bring in a competitor, it means the likelihood of competition for pricing... There's more a danger of overpaying for a project or getting lower returns for a project," Tang said.
Comments will be moderated. Keep comments relevant to the article. Remarks containing abusive and obscene language, personal attacks of any kind or promotion will be removed and the user banned. Final decision will be at the discretion of the Taipei Times.