Aussie inflation moves back into RBA's target band
RECORD-LOW RATES: Last quarter's 2.1% growth is within the central bank's 2% to 3% target, reducing chances of further interest rate cuts, economists said
Australia's annual inflation has moved back into the central bank's target range for the first time in more than two years, data showed yesterday, all but ruling out more interest rate cuts.
Consumer prices in the March quarter rose 0.5 percent from the previous quarter and 2.1 percent from the same period last year, the Australian Bureau of Statistics said.
This was up from 1.5 percent in October to December, but slightly below forecast.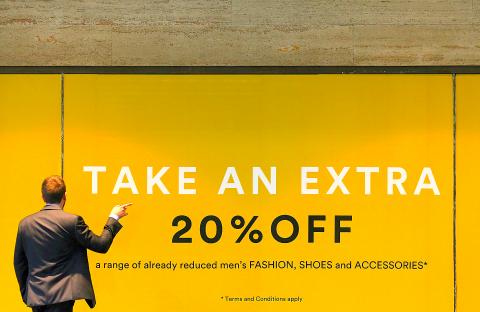 A pedestrian reacts as he walks past a sale sign on display outside a retail store in Sydney, Australia, on April 12.
Photo: Reuters
The reading is within the Reserve Bank of Australia's (RBA) 2 to 3 percent target band for the first time since the September quarter of 2014, boosted by price increases for oil and electricity, which was partly offset by a drop in the cost of fruit.
Underlying inflation, which smooths out volatile price swings, was at 1.8 percent.
The Australian dollar slid to US$0.7509, from US$0.7554, after the figures came out.
Analysts said the data reduced any likelihood of more cuts to interest rates, which are already at record lows, as the RBA juggles a booming property market with mixed economic data.
"The rise in underlying inflation in the first quarter, coupled with the RBA's financial stability concerns, dramatically reduces the chances of any further interest rate cuts," Capital Economics chief Australia economist Paul Dales said.
"That said, price pressures and economic growth are not strong enough to warrant interest-rate hikes. Interest rates are unlikely to rise above 1.5 percent this year or next year," he said.
AMP Capital chief economist Shane Oliver agreed.
"With inflation moving in the right direction and given the RBA's increased emphasis on an inflated Sydney and Melbourne housing market and rising household debt, the RBA is unlikely to make any adjustments to interest rates any time soon," he said "We expect it to keep the cash rate at 1.5 percent for the next year at least."
The RBA slashed rates 300 basis points between November 2011 and August last year to support non-resources industries, as the economy transitions out of a mining investment boom. It has remained on hold since then.
Its board is set to meet on Tuesday.
Comments will be moderated. Keep comments relevant to the article. Remarks containing abusive and obscene language, personal attacks of any kind or promotion will be removed and the user banned. Final decision will be at the discretion of the Taipei Times.