Apple expected to open store in Taipei 101 mall
Apple Inc is to launch its first retail store in Taiwan in the Taipei 101 mall, an industry insider said yesterday, but did not give any information on an opening date.
The Apple Store is to be 1,322m2, occupying a ground floor and first basement shop space, the source said.
In view of the expected opening, Apple premium reseller Studio A is expected to shutter its shop Taipei 101 mall shop on Monday, Studio A president Cheng Ying-lung (程應龍) said.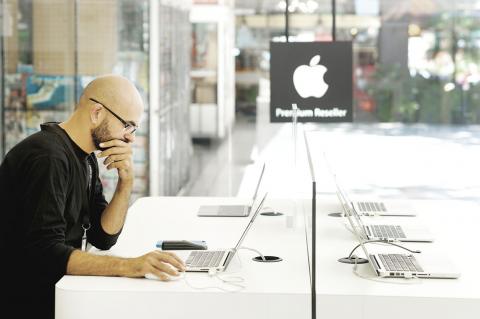 A Maxim Store employee works on a laptop computer on Friday in Buenos Aires, Argentina.
Photo: Bloomberg
Cheng said the store has seen a year-on-year decline in business over the past three months, mainly attributed to a drop in visitor numbers from China.
Studio A is to work on expanding its membership base and improving its maintenance and repair services to compete with the Apple Store, Cheng said.
Apple posted its first job listings for Taiwan in July last year, which were followed by a confirmation of its plans to set up a store in the nation.
However, Apple did not say at the time when the store would be opened or where it would be located.
Comments will be moderated. Keep comments relevant to the article. Remarks containing abusive and obscene language, personal attacks of any kind or promotion will be removed and the user banned. Final decision will be at the discretion of the Taipei Times.