Cabinet reshuffle adds to S African rand's woes
'ALARMING': Jacob Zuma's firing of his finance chief, who had fended off a downgrade in the nation's rating to junk, sparked investors' concerns over fiscal discipline
South Africa's rand headed for its biggest weekly slide since 2015 and bonds plunged, after the firing on Thursday of finance minister Pravin Gordhan raised concerns about the nation's fiscal path and its investment-grade credit rating.
The rand dropped 1.3 percent to 13.4548 per US dollar as of 8:31am yesterday in Johannesburg, the lowest in seven weeks.
The currency was falling for a fifth day, the longest losing streak since August last year.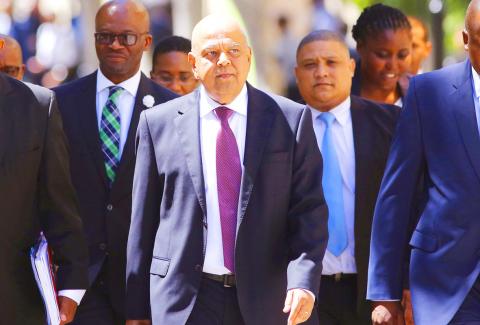 Former South African minister of finance Pravin Gordhan, center, arrives at the South African Parliament to deliver the annual budget speech in Cape Town, South Africa, on Feb. 22.
Photo: AP
Benchmark 10-year government bonds tumbled the most in seven months, sending the yield soaring by 42 basis points to 8.93 percent.
The rand was one of the top three emerging-market currencies last year and early this year, but politics is again casting a cloud over the nation's assets.
Gordhan had fended off a downgrade in South Africa's rating to junk, and his commitment to curb spending and government debt had endeared him to investors.
He clashed with South African President Jacob Zuma over the affordability of building nuclear power plants and the management of state-owned companies.
"Market reaction to the Cabinet reshuffle and what looks to have been a clean sweep of the Treasury top team is going to be a significant negative," Razia Khan, chief Africa economist at Standard Chartered PLC, said in an e-mail. "Given past volatility in the rand when a Cabinet reshuffle was even suggested, the expectation is that the impact may be more pronounced now."
Zuma replaced Gordhan with Minister of Home Affairs Malusi Gigaba, the presidency said in a statement yesterday.
African National Congress (ANC) lawmaker Sfiso Buthelezi took over from Gordhan's deputy, Mcebisi Jonas.
A group of the nation's leading chief executives said that Gordhan's dismissal would have severe consequences for the economy and was a setback to the work done to avoid a credit ratings downgrade.
South Africa's Banking Association said that changing the finance minister and deputy finance minister raised "alarming concerns" over fiscal discipline.
ANC General Secretary Gwede Mantashe also said in a radio interview that the process followed to axe Gordhan and eight other ministers made him "jittery and uncomfortable."
Moreover, ANC ally the South African Communist Party said that the firing of Gordhan risked triggering the looting of the Treasury.
The rand was heading for a 7.6 percent loss for the week — the worst such performance since the last time Zuma rocked markets by firing his finance minister.
Back in December 2015, it was Nhlanhla Nene's ouster that hurt confidence — an episode that ended with Zuma bringing back the respected Gordhan to office.
Politics aside, the generally positive environment for emerging markets — and synchronous pickup in global economic growth — should favor South Africa, with its mining assets.
Its currency enjoyed a 12.6 percent jump against the US dollar last year — behind only Brazil's real and Russia's ruble among emerging markets, according to data compiled by Bloomberg.
"The annoying, frustrating thing from the South Africa perspective is that you don't want political worries now, because things are trending up, things are picking up," Moz Afzal, global chief investment officer at EFG Asset Management, said in an interview in Singapore.
"South Africa is pretty much in the penalty box" for investors now, he said.
Zuma's office said the new ministers and deputy ministers were to be sworn in at 4pm GMT yesterday.
Additional reporting by Reuters
Comments will be moderated. Keep comments relevant to the article. Remarks containing abusive and obscene language, personal attacks of any kind or promotion will be removed and the user banned. Final decision will be at the discretion of the Taipei Times.