China Steel shrugs off threat of anti-dumping duties
Taiwanese makers of carbon and alloy steel cut-to-length (CTL) plates are facing US anti-dumping taxes ranging from 3.62 percent to 6.95 percent, the Ministry of Economic Affairs said on its Web site yesterday.
The local steel producers targeted by the US Department of Commerce include Shang Chen Steel Co Ltd (尚承鋼鐵) and China Steel Corp (中鋼), the nation's largest and only integrated steelmaker, the ministry said.
The punitive tariffs are subject to review by the US International Trade Commission, which is to make a final decision on May 15, the ministry said.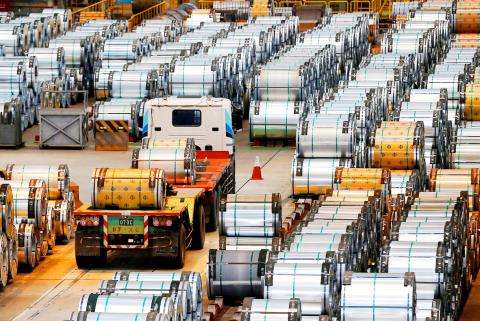 A truck drives past rolls of steel inside the China Steel Corp factory in Kaohsiung on Aug. 26 last year.
Photo: Reuters
An official at Kaohsiung-based China Steel, which could face anti-dumping taxes of 6.95 percent, said the ruling would not have a significant impact on the company.
"We have stopped shipping those products to the US since the second quarter of last year," a company official said by telephone yesterday.
"We now sell most of our CTL plates to Taiwanese customers in the machinery and construction industries," the official said.
Shang Chen will face a tariff of 3.62 percent, while other Taiwanese firms have been imposed a tariff of 5.29 percent, according to the ministry.
The anti-dumping tariffs imposed on Taiwanese firms are relatively lower than those for companies from other seven countries, which range between 5.38 percent and 148.02 percent, the ministry said.
According to US Customs and Border Protection data, steelmakers from the eight countries shipped a total of 935,888 tonnes of products to the US last year.
Taiwanese steelmakers sold 24,665 tonnes to the US during the period, the data showed.
Comments will be moderated. Keep comments relevant to the article. Remarks containing abusive and obscene language, personal attacks of any kind or promotion will be removed and the user banned. Final decision will be at the discretion of the Taipei Times.