European stocks decline as risk aversion weighs
EXPIRING CREDIT: Investors questioned the extent to which US President Donald Trump can deliver on growth policies that have been priced in since he was elected
European stocks on Friday fell for the fourth time in five days, widening a weekly decline and moving further away from a 15-month high they reached just a week ago.
The STOXX Europe 600 lost 0.2 percent. Twelve out of 19 industry groups declined, with energy shares falling the most.
The regional benchmark slipped 0.5 percent this week as investors questioned the extent to which US President Donald Trump can deliver on growth policies that have been priced in since his election.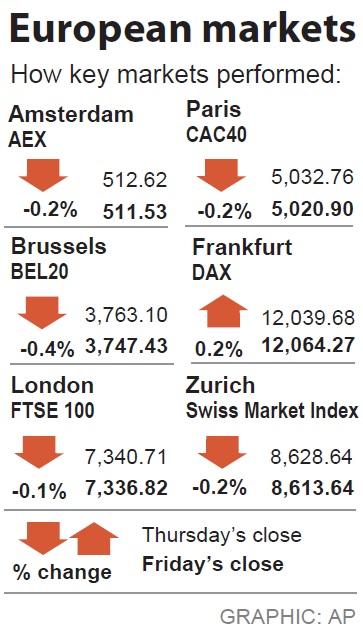 European equities closed lower after Trump suffered a stunning political setback in the US Congress controlled by his own party when Republican leaders pulled legislation to overhaul the US healthcare system, a major election campaign promise of the US president and his allies.
Republican leaders of the US House of Representatives pulled the legislation due to a shortage of votes despite desperate lobbying by the White House and its allies in the US Congress.
They had planned a vote on the measure after Trump cut off negotiations with Republicans who had balked at the plan and issued an ultimatum to vote on Friday, win or lose.
KEY ECONOMIES
Reports from Germany and France showed better-than-forecast manufacturing and services this month, signaling strength in the key eurozone economies.
In Germany, the DAX added 0.2 percent and the French CAC 40 dropped 0.2 percent, while Britain's FTSE 100 index dipped 0.1 percent.
Deutsche Bank AG strategists wrote in a note that they expect the STOXX 600 to rise to a level of 435 in the next five years, an increase of 15 percent from Thursday's close.
Additional reporting by Reuters and AP
Comments will be moderated. Keep comments relevant to the article. Remarks containing abusive and obscene language, personal attacks of any kind or promotion will be removed and the user banned. Final decision will be at the discretion of the Taipei Times.