Gou forms alliance to fight cancer
'REGRET INTO STRENGTH': In his announcement of the alliance among Taiwanese, Chinese and US groups, Gou spoke about his late wife's battle with breast cancer
Hon Hai Precision Industry Co (鴻海精密) chairman Terry Gou (郭台銘) yesterday said a healthcare foundation he created would work with leading research institutes in Taiwan and other nations to combat breast cancer.
The tycoon made the announcement at a news conference held by the Yonglin Healthcare Foundation in Taipei, saying that he has always been determined to "fight breast cancer with technology."
In pledging to bring together the world's medical and academic sectors on a single platform to confront the world's most resilient disease, Gou said the foundation will form an anti-cancer alliance with the National Taiwan University Cancer Center, China's BGI (華大基因), US-based Nantworks LLC and HudsAlpha Institute for Biotechnology, as well as Taiwan's biotech sector.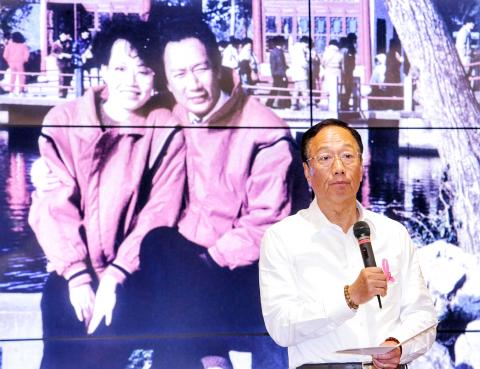 At a news conference in the Yonglin Biomedical Engineering Hall in Taipei yesterday, Hon Hai Precision Industry Co chairman Terry Gou announces cooperation between the Yonglin Healthcare Foundation, which he created, and other medical institutions to fight breast cancer.
Photo: CNA
The alliance is to work to determine the genomic code of breast cancer through life science, biotechnology, gene screening and analysis, Gou said.
Gou, whose first wife died of breast cancer in 2005, said "people should turn regret into strength."
"We believe [we] can bring happiness to humanity," he said, noting that business opportunities are less important than the chance to live.
"Life is priceless," he added.
Addressing the alliance, Gou said breast cancer would be its first target, followed by leukemia.
Hon Hai's cooperation with BGI — known prior to 2008 as the Beijing Genomics Institute — would be like an "industry party" joining hands with a "healthcare party" in the fight against cancer, he said.
BGI, headquartered in Shenzhen, Guangdong Province, is a genome sequencing center. It has been tasked with establishing a Chinese national gene databank and is working to apply its research in genomics to medicine and the germination of agricultural seeds.
At the press conference, BGI president Wang Jian (汪建) said he hopes that in the future, cancer would become a chronic disease that can be controlled.
"Our first objective is to make breast cancer a treatable and controllable disease like liver cancer in the shortest period of time," Wang said.
Nantworks is a US pharmaceutical company that intends to innovate healthcare by using digital technologies. Also based in the US, HudsonAlpha is a nonprofit institute dedicated to innovation in the field of genomic technology.
Meanwhile, Gou said that he hopes one day the two sides of the Taiwan Strait will jointly establish a special zone for medical care and treatment on Kinmen.
Kinmen "should have a new start as the frontline in the battle against aging, illness and death," Gou said. "If this is to be achieved in Kinmen, it will begin with health and the promotion of cross-strait peace."
Comments will be moderated. Keep comments relevant to the article. Remarks containing abusive and obscene language, personal attacks of any kind or promotion will be removed and the user banned. Final decision will be at the discretion of the Taipei Times.