Volkswagen's uphill passage to India is worth the drive: Gadfly
The world's top car brands only have a small share in the Indian market, but government plans to promote electric cars might turn their fortunes around
The world's biggest car manufacturers have a problem with India. Toyota Motor Corp, Volkswagen AG (VW), General Motors Co and Renault-Nissan Group are the giants of the global industry, each selling about 10 million cars a year and together accounting for almost half of the passenger vehicles produced by major manufacturers worldwide.
However, in India, they are minnows, with a combined market share that is not much above 10 percent.
To make matters worse, the local leaders are unusually dominant. Maruti Suzuki India Ltd has about 47 percent of the domestic market and second-placed Hyundai Motor Co has 17 percent. That heavy concentration of power makes it extraordinarily difficult for more minor players to break through.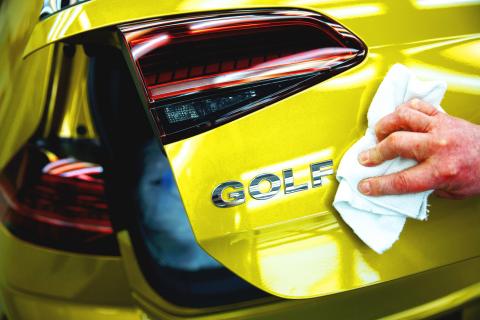 An employee wipes the rear hatch of a Golf car during a quality check at the Volkswagen plant in Wolfsburg, Germany, on Thursday.
Photo: EPA
However, even so, no automaker with global ambitions can afford to ignore a market that is poised to become the world's third-largest.
That helps explain why Volkswagen is so keen to strike a deal with Tata Motors Ltd.
The two are in talks about forming an alliance, Tata chief executive officer Guenter Butschek told Elisabeth Berhmann of Bloomberg News at the Geneva International Motor Show last week.
Butschek, a former Daimler AG executive who helped build the Mercedes-Benz brand in China, said the tie-up could create a shared car-manufacturing platform and give Volkswagen a better Indian foothold.
If you think you have heard that line before, it is because Volkswagen's great rival Toyota last month inked a partnership agreement with Suzuki Motor Corp that would have many of the same features.
With half of the world's 40 most-polluted cities and a heavy dependence on imported oil, India has ambitious plans to shift its nascent car fleet toward more fuel-efficient technologies.
Indian Minister of Power Piyush Goyal wants the country to move to 100 percent electric vehicles by 2030, a perhaps aspirational target that would in theory put India not far behind Norway.
That is a problem for local players, such as Maruti Suzuki and Tata Motors, which would struggle to afford the technology upgrade such a shift would require.
Despite Volkswagen's diesel-emissions scandal and Toyota's late development of fully electric cars, the two have the largest research and development budgets in the industry. Hence the desire for marriages: In return for access to deep pockets, Indian firms can dangle the carrot of better market penetration.
Managing these relationships will require some subtle diplomacy. Toyota only got its chance to sidle up to Suzuki after a previous alliance between Suzuki and Volkswagen fell apart amid recriminations from both sides.
Tata Motors, for its part, already has a joint production line with Fiat Chrysler Automobiles NV, and its Jaguar Land Rover division counts as a major competitor to VW, Audi and Porsche in the more profitable luxury and sports utility vehicle segments.
Toyota and Volkswagen will just have to put up with that. Chasing emerging-market growth has been a huge success story for the latter over the past two decades, turning China into Volkswagen's biggest market.
However, growth there is set to slow and the industry faces fundamental longer-term constraints from the sheer shortage of road space.
India might be a tough market, but it cannot be in any serious automaker's blind spot.
This column does not necessarily reflect the opinion of Bloomberg LP and its owners.
Comments will be moderated. Keep comments relevant to the article. Remarks containing abusive and obscene language, personal attacks of any kind or promotion will be removed and the user banned. Final decision will be at the discretion of the Taipei Times.