In Montreal, mushrooms make the local economy go round
The symbiotic relationship between local restaurants and Blanc de Gris mushroom farm is a perfect example of circular economics — in which no resource is wasted — but the farmers have yet to turn a profit
While delivering oyster mushrooms to restaurants in the heart of Montreal, Lysiane Roy Maheu stops to get a bucket filled with coffee grounds from a barista friend. She needs it for her next crop.
Mixed with residues from local micro-breweries, the grounds will provide rich nutrients for cultivating the sumptuous fungi.
They are grown in pierced plastic buckets stacked 2m high in a warehouse located in a former working-class, but now quickly gentrifying, Montreal neighborhood.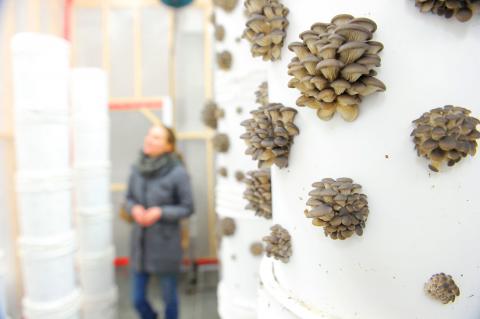 Oyster mushrooms grow in one of the six greenhouses run by urban mushroom farming start-up Blanc de Gris in Montreal, Quebec, on Jan. 17.
Photo: AFP
Three times a week, Roy Maheu and her friend Dominique Lynch-Gauthier, both 35, harvest about 200kg of mushrooms, which are delivered to area restaurants the same day.
This is the so-called circular economy — one that looks to boost productivity by recycling and recovering resources, all while reducing waste and avoiding pollution — at work.
By cultivating mushrooms from recycled resources, "we've eliminated waste," said Lynch-Gauthier, co-founder of the urban farm specializing in high-quality oyster mushrooms, Blanc de Gris.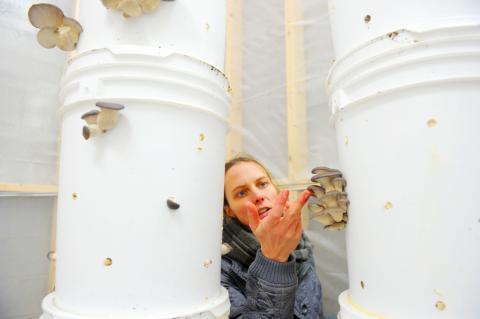 Lysiane Roy Maheu inspects oyster mushrooms in one of the six greenhouses run by Blanc de Gris in Montreal, Quebec, on Jan. 17.
Photo: AFP
"Waste is simply a resource that has been put in the wrong place," she said, citing a founding principle of circular economies.
The pair started the company three years ago, and they sing the praises of recycling as a way to significantly reduce costs, as well as being environmentally sustainable.
To make their product, a mushroom culture is mixed with the coffee grounds and brewery dregs recovered from neighborhood watering holes in buckets, rather than in disposable plastic bags used by most other mushroom houses.
There is no delivery waste either. Plastic bins used to deliver the mushrooms are returned to the vendor and used over and over.
"Any residue from the crop could be used as compost in vegetable gardens," Lynch-Gauthier said.
Roy Maheu has long worked in the restaurant industry and knows how important it is to personally approach chefs at Montreal's best restaurants, to put the mushrooms in front of them to examine and taste.
"We aim to partner with high-end restaurants that share our values," she said.
One kilogram of mushrooms is sold to restaurant owners for C$25 (US$19), including delivery. Walk-in orders are also sometimes accepted, for C$15 per 500g.
Despite the arguably steep prices, business is booming.
"More and more people are willing to pay a little more for local food" that is associated with ecology or organic farming, said Rene Audet, a sociologist at the University of Quebec in Montreal.
As soon as the mushrooms are harvested, they are delivered to the four corners of the city, to retain their freshness and flavor.
"They are more beautiful, fresher and firmer," said Julien Hebert Bouchard, chef at Les Fillettes restaurant, which put Blanc de Gris mushrooms on the menu in the middle of last year.
Roy Maheu and Lynch-Gauthier have invested "hundreds of thousands of dollars" in their company, including monies from friends and family.
Despite their success at creating demand for their product, the company is struggling to reach profitability.
"We haven't been paid in two years," said Roy Maheu, who was at one time juggling a night-time waitressing gig to get by.
Still she and her business partner are undeterred.
Balancing demands on her time sometimes means picking up her eight-year-old daughter after school and bringing her along for deliveries.
"I take her on my restaurant tour," she says with a smile.
The pair of entrepreneurs might diversify and add more types of mushrooms to their repertoire.
However, for now, they are focused on a single variety as they seek to improve production and ensure that their customers remain happy.
The year they launched their mushroom business, Montreal saw the opening of its first rooftop greenhouses in a warehouse district of the city, selling local organic produce.
Although these greenhouses charge nearly double for fruit and vegetables compared with those shipped to grocery stores from abroad, demand for local produce is growing, fueled by eating trends such as the 160km diet, in which everything you eat must come from within a 160km radius.
"I think there is a real motivation to transform our food system today," said Audet, predicting that clusters of new artisanal producers will eventually reach a critical mass.
Initiatives that support "an alternative food system are rolling out more and more, are being recognized and are succeeding," he said.
Comments will be moderated. Keep comments relevant to the article. Remarks containing abusive and obscene language, personal attacks of any kind or promotion will be removed and the user banned. Final decision will be at the discretion of the Taipei Times.