US did not exert pressure over Uber, ministry says
'SERIOUS MATTER': The anti-Uber stance bolsters Donald Trump's arguments that the US' partners take advantage in trade deals, Bloomberg's Eli Lake said
The Ministry of Transportation and Communications yesterday denied reports that the US has been pressuring Taiwan to reconsider its decision to fine Uber Technologies Inc a total of US$8 million, which led to the suspension of the ride-sharing service in the nation.
The US Department of State had voiced its concern to the ministry as part of protocol, but it did not "exert pressure" on the ministry about its action against Uber, Deputy Minister of Transportation and Communications Wang Kwo-tsai (王國材) said.
"This is a serious matter, especially as certain interested parties are attempting to politicize the dispute and turn it into an international relations issue," Minister of Transportation and Communications Hochen Tan (賀陳旦) said.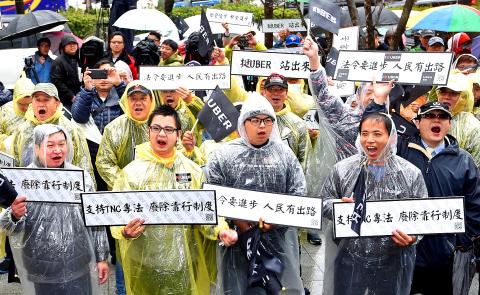 Uber drivers on Sunday hold protest signs outside the Ministry of Transportation and Communications in Taipei calling for a law to legalize and regulate transportation network companies such as Uber Technologies Inc.
Photo: Chu Pei-hsiung, Taipei Times
The ministry's response came after Bloomberg View columnist Eli Lake on Friday last week said that the anti-Uber stance of President Tsai Ing-wen's (蔡英文) administration might have wider ramifications for Taiwan, one of the US' closest allies in the region.
The US Department of State has been helpful in pressing the Taiwanese government to reconsider its anti-Uber stance, but to little effect so far, Damian Alexander Kassabgi, Uber's director of public policy for the Asia-Pacific region, was quoted as saying in the column.
Although the government says its goal is to keep companies compliant with local laws, Uber's perspective is that the claim is merely a smokescreen to protect the nation's taxi industry, which has tremendous influence on policies, Lake said.
Lake added that while US President Donald Trump has a protectionist agenda, Taiwan's anti-Uber stance bolsters Trump's arguments that the US' trading partners take advantage of the US in trade deals.
Lake said that view is shared by Michael Beckerman, president and chief executive officer of the Internet Association, which counts Uber and other large US Internet companies among its members.
"Taiwan's hard line against innovative new digital services like those in the peer-to-peer sharing economy will have a chilling effect on your goal of establishing Taiwan as the Silicon Valley of Asia, and will likely have negative effects on US investment in Taiwan more broadly," Beckerman was quoted as saying in a letter dated Feb. 9.
"That's something for Tsai to consider. America now has a president who has threatened to respond in kind to countries that punish US companies to protect their own industries. Is Taiwan's taxi industry worth protecting, if the cost is a trade war with the island's most important ally? Uber would like to know," Lake wrote.
Comments will be moderated. Keep comments relevant to the article. Remarks containing abusive and obscene language, personal attacks of any kind or promotion will be removed and the user banned. Final decision will be at the discretion of the Taipei Times.