TCL shows off new BlackBerry
Chinese electronics company TCL Corp on Saturday showed off its first BlackBerry Ltd-licensed smartphone, which brings back the device's signature physical keyboard as it seeks to revive the once mighty brand.
The KEYone phone has a larger screen than previous BlackBerry devices and a fast-charging battery as TCL sets its sights on businesses and tries to rekindle BlackBerry's strong reputation for productivity and security.
TCL reached the brand-licensing deal in December last year after the Canadian company announced that it would halt in-house production of smartphones, marking the end of an era for the once-dominant tech firm.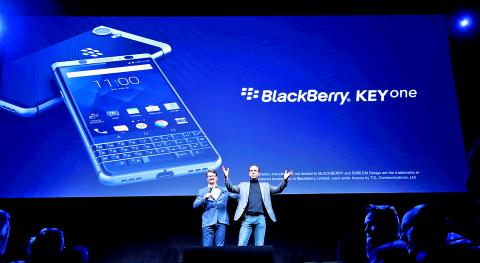 Mobile Nations chief media officer Kevin Michaluk, left, introduces TCL Communication CEO Nicolas Zibell on Saturday as Zibell presents the new BlackBerry Key One in Barcelona, Spain.
Photo: Reuters
Under the agreement, BlackBerry remains in control of software and security on smartphones, while TCL will handle creating handsets powered by Google Android software.
Officials from both firms unveiled the KEYone in Barcelona ahead of today's opening of the four-day Mobile World Congress (MWC), the world's largest annual phone expo.
In the new BlackBerry phone the keyboard can be used for more than just typing.
The spacebar on the keyboard also doubles as a fingerprint sensor, while individual letter keys can be programmed as shortcuts to open specific apps.
The KEYone will go on sale around the globe in April at a cost of 599 euros (US$549).
"The new BlackBerry portfolio has a chance of success, because few companies now offer BlackBerry-style design and features, and the productivity-focused smartphone segment is underserved," IHS senior director and head of the mobile and telecoms team Ian Fogg said.
"Even if BlackBerry's smartphone share remains so low it is hard to quantify, the vast scale of the smartphone market — over 1.5 billion units will ship in 2017 — means even a tiny share would represent significant unit volumes and revenues," he added.
TCL said it would be coming out with new BlackBerry products later this year.
"What we are unveiling today is just the beginning of a new story," TCL chief executive Nicolas Zibell said.
Nokia Oyj is also attempting to make a comeback with new devices. It is reportedly set to reveal several new devices at the fair, including an updated version of its iconic 3310 phone.
However, Samsung Electronics Co, which had to discontinue its Galaxy Note 7 smartphone last year after several cases of the devices exploding, will not unveil any new phones at the congress.
With Samsung not unveiling a new phone, the rest of the industry will have a rare opportunity to grab the spotlight in Barcelona.
"Don't expect innovation on smartphones' hardware, but instead a focus on emerging technologies" like virtual reality and artificial intelligence, Forrester Research analyst Thomas Husson said.
With smartphone market saturated in key markets, the battle for profits is shifting away from the handset to other connected devices, analyst say.
"Unless we see a major new disruption similar to the one prompted by the iPhone's arrival in 2007, we expect smartphone sales in Western Europe and North America to slowly decline after 2017," CCS Insight analyst Jasdeep Badyal said.
Several new wearable products are expected to be unveiled in Barcelona as well as 360-degree cameras and connected objects.
Comments will be moderated. Keep comments relevant to the article. Remarks containing abusive and obscene language, personal attacks of any kind or promotion will be removed and the user banned. Final decision will be at the discretion of the Taipei Times.