Ferragamo undeterred by US import tax proposal
The new chief executive officer of the Salvatore Ferragamo SpA luxury leather goods and fashion house on Friday said that the prospect of a possible new tax on imports into the US will not deter his growth strategy in the brand's single most important market.
Eraldo Poletto told reporters that any tax on imports, as floated by US President Donald Trump's administration, could be balanced by other factors, including currency fluctuations.
One thing Ferragamo will not do is consider moving production to the US, which represents about one-quarter of its revenues, Poletto said, adding that Ferragamo's "Made in Italy" craftsmanship credential is integral to the brand.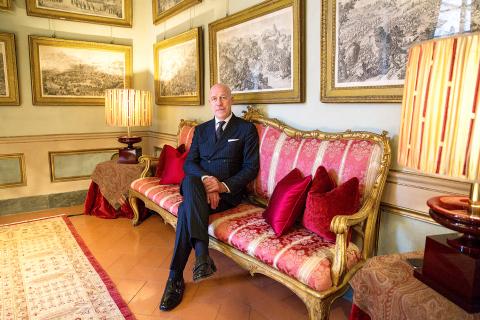 Salvatore Ferragamo SpA chief executive officer Eraldo Poletto poses for a photograph following an interview during an investors' day at the company's headquarters in Florence, Italy, on Friday.
Photo: Bloomberg
He said Ferragamo would adjust to any new regime without shifting manufacturing, as other fashion companies, including the LVMH Moet Hennessy Louis Vuitton SE conglomerate, have indicated they would do.
"I think the key is, if he goes there, how strong the [US] dollar will be. So it is not going to be just one action. Other things will happen. The beauty of the global economy is that things will balance out," Poletto said. "I think we are very emotional about things and then actually there is a solution to everything."
Poletto joined Ferragamo in August last year from Furla as the company was undergoing dual management and creative transitions. It has in the meantime appointed three head designers — Paul Andrew for women's footwear, Fulvio Rigoni for womenswear and Guillaume Meilland for menswear — instead of one single creative director as was done in the past.
"We decided the Ferragamo creative director is the brand," Poletto told an analyst presentation outlining the brand's plans to raise its revenues by twice the market rate in the medium term. "That is more challenging, but it is amazing how the strong expertise of each of them put together can create a unified aesthetics."
Ferragamo's product priority is to be the brand's core shoe and leather goods businesses, with a focus on women's footwear and handbags, also in the US where Poletto said men's footwear is already performing well.
Poletto is investing in the creation of a new must-have handbag to get the Ferragamo customer base buzzing.
"We are now under-penetrated in leather goods. We are not very happy about that," he said. "We are fixing that very rapidly."
The storied brand was launched by Salvatore Ferragamo in California as the Hollywood Bootshop in 1923, making shoes for the film industry. He later returned to Italy to build the brand based on Italian craftsmanship.
Ferragamo's son, Ferruccio Ferragamo, is the chairman, while three of the founder's 23 grandchildren have joined its workforce under a family-set cap at the publicly traded company.
"It's 90 years after father came back from America," said another of Ferragamo's sons, company board member Leonardo Ferragamo. "He came back to Italy because he knew that only in Italy he would find the quality he was dreaming of to deliver with his shoes."
Comments will be moderated. Keep comments relevant to the article. Remarks containing abusive and obscene language, personal attacks of any kind or promotion will be removed and the user banned. Final decision will be at the discretion of the Taipei Times.