Airbus deliveries increased last year, but new orders fell
Airbus Group SE delivered a record number of planes last year, despite engine and cabin production problems, even as new orders slumped for both the European manufacturer and its US rival Boeing Co.
An unlikely customer provided a big boost to the industry last year — Iran, which on Wednesday took delivery of its first Airbus plane in years as part of a multibillion-dollar deal made possible by a hard-fought nuclear agreement.
Airbus executives defended the superjumbo A380, which has not won as many orders as many had hoped, and played down concerns that the industry is facing a downturn after a long-running buying spree by Mideast and Asian carriers. However, they refused to issue forecasts for this year amid signs that China's slowdown and volatile fuel prices threaten to weigh on aircraft orders.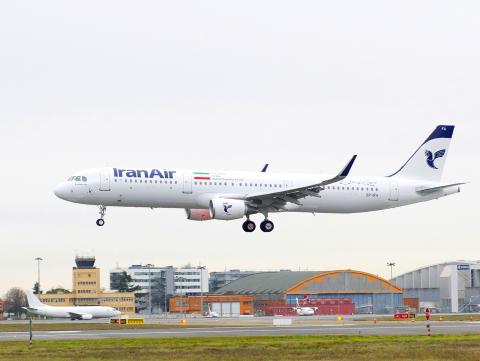 A photo provided by Airbus Group shows an A321 with the Iran Air logo landing at Blagnac airport near Toulouse, France, on Wednesday.
Photo: Airbus via AP
Airbus on Wednesday said it delivered 688 planes over the year, primarily in the single-aisle A320 family, compared with 635 in 2015 and above the company's own expectations. Airbus increased deliveries of its long-delayed A350 wide-body to 49 overall.
The A320 range — notably the fuel-efficient A321neo — dominated Airbus sales last year, when it won 731 net orders overall, compared with 1,036 the year before.
Last week, Boeing said it delivered 748 planes last year and took in 668 net orders, down from 768 in 2015.
"I'm confident that we'll have a new record in deliveries" this year, Airbus commercial planes sales chief John Leahy said on Wednesday in Toulouse, France.
However, he added: "That doesn't mean that orders are going to be strong."
Racing with Boeing for business in post-sanctions Iran, Airbus made the symbolic move of delivering an A321 jet to Iran Air on Wednesday, the first of 100 planes planned in an Airbus deal worth more than US$18 billion at list prices.
Iran's flag carrier signed a similar deal with Boeing, for 80 jetliners that will not start arriving until 2018.
Airbus commercial planes president Fabrice Bregier said that the company would continue work on the Iran planes despite concerns that US president-elect Donald Trump could threaten the international nuclear agreement that paved the way for the aircraft contracts.
Airbus also shrugged off concerns of protectionist measures threatened by Trump, saying it is manufacturing in the US too — and delivered its first US-assembled plane last year, an A321 made in Mobile, Alabama.
While Airbus insists that the world will need bigger planes like the A380 as population and travel grow, many airlines are turning away from major hubs and using smaller, cheaper planes instead. Airbus has scaled back production of the plane to one per month as orders have lagged.
Mark Bobbi of IHS Markit forecast slower order rates in Asia and the Mideast after a period of "over-ordering."
A big question mark hanging over the industry is the rising oil price, which is putting pressure on airlines to cut costs — or to invest in newer, more fuel-efficient planes.
Comments will be moderated. Keep comments relevant to the article. Remarks containing abusive and obscene language, personal attacks of any kind or promotion will be removed and the user banned. Final decision will be at the discretion of the Taipei Times.