US to outperform inflation, job goals, Fed official says
US Federal Reserve Vice Chairman Stanley Fischer said the central bank could exceed its goals for inflation and employment as it probes the limits of resource use in the economy.
Fischer said the economy could "to some extent exceed our employment and inflation targets," in remarks that could be viewed as implying some tolerance for overshooting its goals to coax out more investment and hiring.
His comments at an IMF conference in Washington on Friday follow a widely noticed observation by Fed Chair Janet Yellen last month that there were "plausible ways" a "high pressure economy" could promote healthier growth through better labor allocation and by promoting research and startup activity.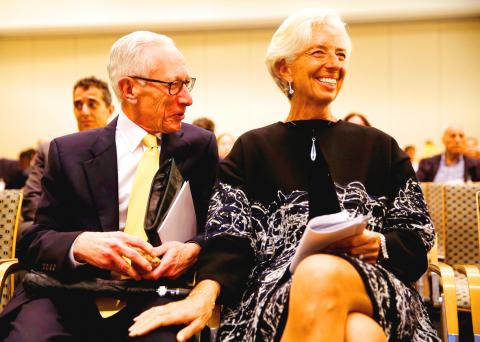 Federal Reserve Vice Chairman Stanley Fischer, left, talks with IMF managing director Christine Lagarde during an IMF conference on Thursday.
Photo: Reuters
"The trade-off of how much inflation there would be for modestly exceeding their employment objective looks very favorable," said Laurence Meyer, a former Fed governor and head of a policy analysis firm that bears his name in Washington, adding that Fischer's remarks show "tolerance within limits on inflation."
US central bankers forecast some overshooting of their lowest sustainable unemployment rate estimate of 4.8 percent earlier this year. The median estimate in their September forecasts shows the unemployment rate declining to 4.6 percent in the final quarter of next year and 4.5 percent in 2018. However, inflation never exceeds their 2 percent target, according to the median outlook of their quarterly projections.
In his remarks, Fischer hewed closely to the Fed's statement earlier this week that signaled the central bank's intention to raise interest rates this year if economic reports remained on track.
"Our assessment is that the most recent data have further strengthened the case for increasing the target range for the federal funds rate," he said in brief prepared remarks at the IMF, adding that he expected the economy to grow "at a moderate pace" supported by household spending and "renewed" business investment.
Fischer said the labor market "is close to full employment," and noted the recovery has delivered "powerful" employment gains.
Comments will be moderated. Keep comments relevant to the article. Remarks containing abusive and obscene language, personal attacks of any kind or promotion will be removed and the user banned. Final decision will be at the discretion of the Taipei Times.