Slowdown hits UK's Brexit economy
OVERREACTED? Bank of England Governor Mark Carney is to be questioned over his decision to cut rates, in light of Brexit's weaker-than-feared impact on the economy
The UK economy appears to be weathering Brexit better than many expected, but it is still heading for its weakest performance in a year.
After a 0.7 percent expansion in the second quarter, economists in a Bloomberg survey anticipate just 0.3 percent growth in the three months since the vote to leave the EU.
While that is far from the recession that some warned the referendum would trigger, it would still be just half the average quarterly pace over the past four years.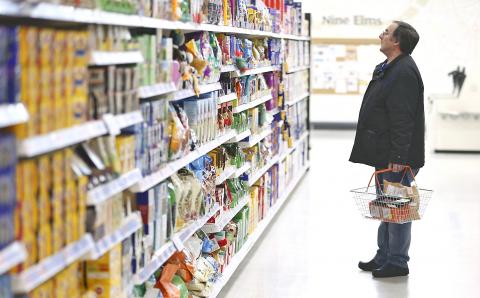 A shopper browses items at a Sainsbury's store in London, England, on Oct. 11.
Photo: Reuters
The data is the first official indicator of how the economy as a whole has fared in the aftermath of Britain's decision to divorce from its biggest trading partner. Surveys and data on consumer confidence and services, the biggest part of the economy, have held up after an initial post-vote dip. Still, the pound has slumped 18 percent since the vote and uncertainty about any new EU trading relationship might weaken business investment.
"There are still challenges ahead, let's not get too carried away, but certainly it's a decent start," Investec economist Victoria Clarke said. "From a position where we could have seen a huge shock to sentiment and a much bigger hit to services sector, it will be a decent performance."
The report from the statistics office is to be published on Thursday as Bank of England (BOE) Governor Mark Carney and fellow officials are to begin discussing new forecasts before announcing their interest-rate decision on Thursday next week.
They cut rates to a fresh low in August and restarted bond buying as a defense against the Brexit vote, and some have questioned whether the stimulus was needed in light of the rosier-than-anticipated outlook.
That issue might come up tomorrow, when Carney is to be questioned by lawmakers in the upper house of British parliament on the BOE's response to Brexit.
Among the topics the House of Lords Economic Affairs Committee said it would address is whether the governor "misjudged" the impact.
"There is probably a reasonable chance still of another cut in interest rates over the coming months," Capital Economics economist Ruth Gregory said. "Although we can take some comfort in the resilience of recent data, the economy is clearly not out of the woods yet."
Data in the past month indicate that both industrial production and construction might have declined in the third quarter, leaving services to drive growth.
Budget numbers on Friday last week showed Britain is on course to borrow billions of pounds more than planned this year, leaving Chancellor of the Exchequer Philip Hammond with little wriggle room on fiscal stimulus.
Comments will be moderated. Keep comments relevant to the article. Remarks containing abusive and obscene language, personal attacks of any kind or promotion will be removed and the user banned. Final decision will be at the discretion of the Taipei Times.