Apple shifting from Quanta to Hon Hai
PC PACIFIED: Apple reportedly offered Hon Hai a 15 percent increase in MacBook and iMac assembly orders to offset weakness in demand for iPads, analysts said
Apple Inc has been gradually shifting its MacBook and iMac orders from Quanta Computer Inc (廣達) to Hon Hai Precision Industry Co (鴻海精密) over the past two years, market researcher International Data Corp said yesterday.
"Quanta is still the primary notebook computer ODM [original design manufacturing] partner to Apple, but the order shifting is happening slowly on a quarterly basis," Data Corp Taiwan branch research director Helen Chiang (江芳韻) said by telephone.
Chiang's comments came after the Chinese-language Commercial Times reported yesterday that Quanta's order allocation for MacBook and iMac models could drop from 75 percent this year to as low as 60 percent next year.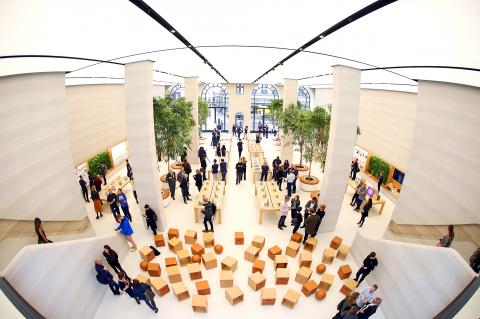 MacBooks and iMacs are displayed at a newly refurbished Apple Inc store on Regent Street in London on Thursday last week.
Photo: Bloomberg
Apple reportedly agreed to increase Hon Hai's share in MacBook and iMac assembly from 25 percent this year to 40 percent next year in an attempt to compensate the company for reductions on iPad orders due to a market decline, the report said, citing industry sources.
Chiang said she found it illogical to use MacBook shipments to offset weakness in demand for iPads, as the overall PC industry remains soft and Apple's growth momentum for MacBooks this year is slow.
Apple shipped 5.01 million MacBooks and iMacs last quarter, down 13 percent from the 5.76 million units shipped in the same period last year, Data Corp said.
Apple is speculated to be attempting to decentralize its iMac and MacBook assembly operations, Chiang said.
An industry source, who declined to be named due to the sensitivity of the matter, told the Taipei Times that Quanta's order allocation in the iMac and MacBook models has plummeted from about 95 percent two years ago to about 70 percent this year, because one of the product lines had an assembly issue two years earlier.
The source said Quanta quickly resolved the issue and has been maintained its high-quality assembly ever since, but Apple started to increase its orders to Hon Hai after the incident as part of the US company's plan to cultivate a second supplier for its products.
"I would not be surprised if Quanta's order allocation fell to 60 percent next year, given it is at 70 percent now," the source said.
Yuanta Securities Investment Consulting Co (元大投顧) said it thinks Quanta would maintain its dominant 80 percent share of MacBook and iMac production next year.
Hon Hai is unlikely to gain more from Apple's MacBook and iMac, because it is phasing out notebook computer assembly lines and focusing on iPhone assembly, Yuanta analyst Vicent Chen (陳豊丰) said in a client note yesterday.
Chen said he thinks iPhone assembly is likely to continue to the be Hon Hai's most important business.
Quanta declined to comment on its client's order allocation and the report.
Comments will be moderated. Keep comments relevant to the article. Remarks containing abusive and obscene language, personal attacks of any kind or promotion will be removed and the user banned. Final decision will be at the discretion of the Taipei Times.