Deal with Navinfo still on: MediaTek
AUTOCHIPS: Navinfo's plans to buy a majority stake in MediaTek's Chinese subsidiary is under review by the China Securities Regulatory Commission, the chip designer said
Handset chip designer MediaTek Inc (聯發科) yesterday dismissed speculation that a US$497 million deal to sell AutoChips Inc (傑發) to China's largest digital map provider Navinfo Co Ltd (四維圖新) has hit a snag, saying the case is being reviewed by Chinese regulators.
Concern about a delay in the transaction dragged down MediaTek shares, which fell to a low of NT$238 before recovering to close at NT$240 yesterday in Taipei trading, down 0.41 percent from Monday.
"Navinfo has submitted the deal to China's regulator for review in accordance with local rules. The project is undergoing a normal review process," MediaTek spokesman David Ku (顧大為) said in a Taiwan Stock Exchange filing.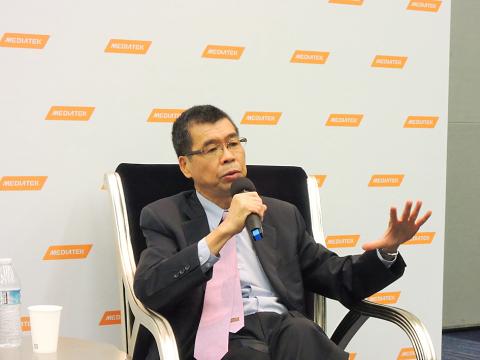 MediaTek chairman Tsai Ming-kai gestures in Taipei in an undated photograph. Mediatek yesterday denied speculation that a US$497 million deal to sell a subsidiary to China's largest digital map provider, Navinfo Co Ltd, had run into problems.
Photo: Chuo Yi-chun, Taipei Times
Ku's remarks came after the Chinese-language Economic Daily News yesterday reported that the review had stalled, because the China Securities Regulatory Commission was concerned that Navinfo might overpay for the acquisition of AutoChips, which has seen falling revenues.
Hefei-based AutoChips supplies chips used in car entertainment and information devices.
The deal could fall through in a "worst-case scenario," the report said.
"The report is media speculation and contradicts the case's current reviewing," Ku said in the filing.
MediaTek in May announced that it had agreed to sell an 83 percent stake in AutoChips to Navinfo in a bid it accelerate its expansion into the fast-growing telematics and advanced driver assistance systems (ADAS) markets in collaboration with the Beijing-based company.
The Hsinchu-based company has a long list of Chinese handset clients, including Oppo Mobile Telecommunications Corp (歐珀移動), Vivo Electronics Corp (維沃移動通信) and Xiaomi Corp (小米).
MediaTek expected to wrap up the share sale by this quarter, allowing it to book earnings between NT$10 billion and NT$12 billion (US$315.8 million and US$379 million) over a three-year period from this year.
A delay in the transaction this year would mean a reduction of NT$5 billion (US$158 million) in MediaTek's estimated net profit for this year due to a lack of asset gains, it estimated five months ago.
Navinfo was suspended from trading on the Shenzhen Stock Exchange yesterday after it received notification from the China Securities Regulator Commission that it plans to hold a meeting in the near future to review an acquisition deal submitted by Navinfo along with a share issuance plan to fund the deal, information on the company's Web site said.
Navinfo said its digital map is used by mainstream automakers such as German car giants BMW, Volkswagen, Mercedes-Benz and Japan's Toyota.
Comments will be moderated. Keep comments relevant to the article. Remarks containing abusive and obscene language, personal attacks of any kind or promotion will be removed and the user banned. Final decision will be at the discretion of the Taipei Times.