Home sales might hit new low as stalemate continues
The number of property transactions this year might drop below 250,000 units, as prospective buyers anticipate another price correction, while sellers refuse to concede, Great Home Realty Co (大家房屋) said yesterday.
That would mark the lowest level since the government started its annual survey — falling below the 258,000 units recorded in 2001 after the tech bubble burst, Great Realty general manager H.C. Chen (陳錫琮) said.
The broker arrived at the forecast after the number of home sales nationwide shrank 16.4 percent year-on-year to 158,760 units in the first seven months of the year.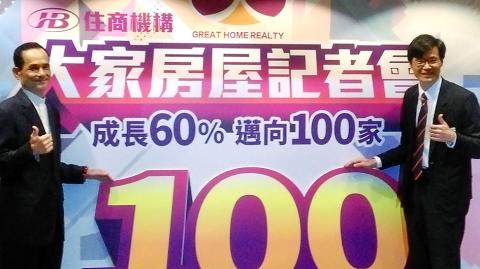 Great Home Realty Co general manager H.C. Chen, right, attends a news conference yesterday, where he said a new company plan would enable salespeople to increase transactions by 40 percent in two years.
Photo: CNA
It said the market has yet to show signs of a recovery.
Expectations of further price falls and housing affordability have contributed to a sluggish market, while talk of unfavorable policies have deepened feelings of unease among potential buyers, Chen said, referring to suggestions of mandatory safety checks of homes older than 30 years prior to sales.
Deputy Minister of the Interior Hua Ching-chun (花敬群) floated the idea during a forum on Wednesday, which drew an outcry from brokers, saying the policy would sound the death knell for the sales of older homes.
The ministry sought to calm the market by calling Hua's proposal premature.
Housing prices in different parts of the nation have corrected from a year ago, but the pace is not enough to attract buyers, Chen said, adding that greater concessions are necessary to end the stalemate.
The presale and new homes market might lead the price adjustments, as seen in some presale projects near MRT stations in New Taipei City, he said.
Chen said developers can afford to lower their price tags by offering smaller units that use less expensive designs and materials.
Such a pricing strategy would have an impact on existing homes in adjacent areas, he said.
The decline in the number of real-estate brokers, another indicator of the local property market, confirmed the downtrend in the housing market, Chen said.
There are 5,972 registered brokers this year, a drop of 6.1 percent from last year and the lowest level in three years, according to Great Home, which is the second brand of H&B Realty Co (住商不動產).
Unfazed by the softening market, Great Home aims to increase its number of outlets from 87 to 100 by the end of this year, as its local peers might want to join the company, Chen said.
Comments will be moderated. Keep comments relevant to the article. Remarks containing abusive and obscene language, personal attacks of any kind or promotion will be removed and the user banned. Final decision will be at the discretion of the Taipei Times.