TransAsia denies unfair treatment of V Air workers
FLIGHT FIGHT: CAA official Han Chen-hua said TransAsia can launch Chiang Mai and Fukuoka services after union members said the airline might be breaching the rules
TransAsia Airways Corp (復興航空) yesterday denied allegations of unfair treatment made by employees of V Air (威航), its fully owned budget airline, which is to stop operations for at least one year beginning next month.
TransAsia said that the budget airline had accumulated net losses of more than NT$1.1 billion (US$35 million) since it began operations in December 2014.
"The company was compelled to halt V Air's operations due to mounting losses, which had continued to trend higher," TransAsia said, adding that V Air employees would be given more than three months' salary each as severance payments, which exceeds the minimum legal requirement of one month.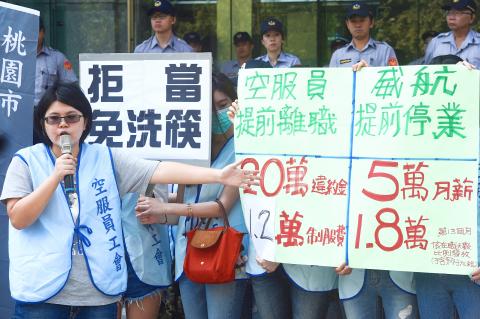 Taoyuan Flight Attendants Union members hold placards in front of the Ministry of Transportation and Communications building in Taipei yesterday, protesting the conditions of budget airline V Air's integration into parent company TransAsia Airways.
Photo: George Tsorng, Taipei Times
TransAsia's remarks came after about 20 V Air employees and Taoyuan Flight Attendants Union members protested in front of the Ministry of Transportation and Communications building in Taipei earlier yesterday, accusing TransAsia of keeping only profitable flight routes and firing V Air employees when they are no longer needed.
The union said that V Air's passenger counts in the first eight months of the year had grown more than threefold on an annual basis, with average flight capacity remaining steady at about 75 percent.
V Air employees said the budget airline has the largest growth rate in passenger numbers among airlines in the nation, but it was forced to suspend services next month because of TransAsia's financial losses.
By halting operations, TransAsia is rejecting the principals of a sustainable business model, the employees said, adding that the parent company has selectively kept a number of the budget carrier's most popular routes, such as to Chiang Mai, Thailand and Fukuoka, Japan, employees said.
Union secretary-general Lin Chia-wei (林佳瑋) said that the Civil Aeronautics Administration (CAA) has indicated that airlines are not allowed to transfer aviation rights among themselves, but TransAsia suspended V Air services and started offering its profitable flights itself.
Lin said the CAA should consider an airline's record in labor disputes — in addition to its flight safety record — when it assigns aviation rights among the nation's carriers.
Air Transport Division Director Han Chen-hua (韓振華) said that it would take back aviation rights if the airline does not use it within six months.
Han said TransAsia can launch services to Chiang Mai and Fukuoka because it submitted applications to offer those flights, which have been approved by the administration.
Employees had to sign a three-year contract before starting the job, V Air flight attendant Su Chi-wen (蘇志文) said, adding that they would have to pay NT$200,000 if they broke the contract and NT$12,000 for their uniforms.
Su said that TransAsia is only willing to pay NT$68,000 in severance, but it should pay NT$300,000, or six months' salary, for breaking the contract.
TransAsia said V Air has 253 employees including pilots and mechanics, and the 68 flight attendants who are union members do not speak for its entire staff.
Comments will be moderated. Keep comments relevant to the article. Remarks containing abusive and obscene language, personal attacks of any kind or promotion will be removed and the user banned. Final decision will be at the discretion of the Taipei Times.