Samsung telephones reportedly catch fire in China
Two Samsung Galaxy Note 7 smartphones have reportedly caught fire in China in what, if confirmed, would be the first such incidents in the world's largest smartphone market.
Samsung Electronics said it was investigating one of the reported cases. The South Korean firm had earlier said Galaxy Note 7 smartphones sold in China were safe to use.
A user of Chinese social media on Sunday posted messages saying a friend's Note 7 caught fire over the weekend.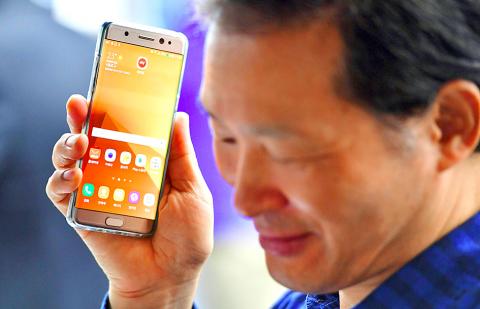 A man holds a replacement Samsung Galaxy Note7 smartphone yesterday at a telecommunications shop in Seoul.
Photo: AFP
The user, contacted by telephone, told reporters the Note 7 was bought on Sept. 1 through JD.com e-commerce Web site. The man, who asked not to be identified by name, said the telephone started to heat up and vibrate late on Saturday night, then exploded and emitted black smoke.
Samsung contacted the owner on Sunday and offered to take back the telephone in exchange for a refund, but the owner refused, according to the friend.
He said he and the owner did not want to be identified by name.
A second account on a separate social media account said an owner's telephone exploded on Sunday while the person was playing a game on it. That account gave no contact information for the user or details of where the person lives.
Samsung Electronics launched the Note 7 phone in China on Sept. 1 amid a growing number of reports of the telephones catching fire overseas.
The following day, Samsung announced that it would stop sales of the Note 7 phones in 10 countries. An executive said sales in China would continue because Note 7 phones sold there used a different battery than those linked to problems elsewhere.
Samsung is recalling 1,858 Note 7 phones in China, according to a notice dated Wednesday last week from the country's product quality agency.
Samsung said those telephones were distributed before Sept. 1 to give consumers hands-on experience. The recall in China applies to telephones made between July 20 and Aug. 5.
Separately, Samsung yesterday rolled out replacements for Galaxy Note 7s plagued by exploding batteries in South Korea, but only a handful of customers appeared to have taken the opportunity to swap their handsets.
The world's largest maker of mobile telephones recalled 2.5-million units of its top-of-the-range model more than two weeks ago, after batteries began catching fire while charging.
However, users snubbed the South Korean electronics giant's offer of a temporary replacement until new Note 7s became available and there seemed to be little urgency among consumers for the permanent fix offered yesterday.
The success of the recall is seen as crucial to Samsung retaining brand loyalty.
A Samsung spokeswoman confirmed the firm had started to offer the replacement handsets in South Korea and several European nations yesterday — and would follow suit in the US tomorrow and expand to other markets by next week. The company began offering replacements for users in Canada and Singapore last week and is set to start soon in other nations including Taiwan, Mexico, New Zealand the United Arab Emirates.
Comments will be moderated. Keep comments relevant to the article. Remarks containing abusive and obscene language, personal attacks of any kind or promotion will be removed and the user banned. Final decision will be at the discretion of the Taipei Times.