Tesla got warning about 'hands-free' driving: Mobileye
Mobileye NV said in a US securities filing on Friday that its top executives were assured by Tesla Motors Inc chief executive Elon Musk that drivers of the company's electric cars would not be allowed to take their hands off the wheel when using the "autopilot" driving assistance system, but Tesla later allowed hands-free driving over Mobileye's objections.
Mobileye said that in product planning communications between the top executives of Mobileye and Tesla, going back to May last year, the supplier expressed safety concerns regarding Tesla's plans to allow drivers to remove their hands from the wheel while driving.
"It has long been Mobileye's position that Tesla's autopilot should not be allowed to operate hands-free without proper and substantial technological restrictions and limitations," Mobileye said in its filing, which it said was made in response to inquiries.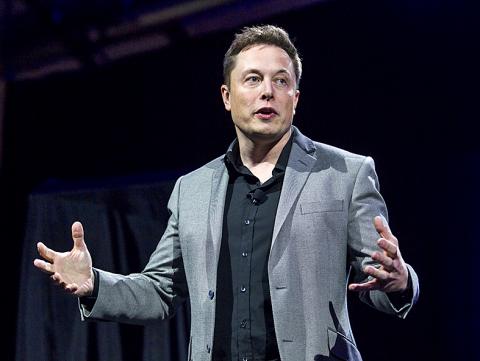 Tesla Motors chief executive officer Elon Musk speaks at a company event in Hawthorne, California, on Thursday.
Photo: AP
Mobileye, an Israeli company that is a leader in vision systems for vehicles, further alleged in its filing that Musk promised in a subsequent face-to-face meeting with Mobileye chairman and chief technology officer Amnon Shashua that its autopilot system would require drivers to keep their hands on the wheel.
However, Tesla later backed off this pledge, Mobileye said in its filing with the US Securities Commission, launching hands-free activation features late last year.
A Tesla spokeswoman on Thursday said that Mobileye collaborated with Tesla to develop Autopilot over the past three years. The Silicon Valley electric luxury carmaker did not have an immediate reply after Mobileye's statement was filed on Friday.
Mobileye declined to supply specific evidence beyond what it disclosed in its regulatory filing. It said it had commented fully on the breakdown in its ties with Tesla and would provide no further comment.
Tesla said in a statement on Thursday that relations broke down with Mobileye over Tesla's plans to develop its own, competing vision system to help drivers avoid collisions.
Tesla has said that drivers received warnings from their vehicles to keep their hands on the wheel while operating on autopilot.
Tesla said it would update autopilot to make it more difficult for drivers to ignore warnings to keep their hands on the wheel. Musk said that those changes, and others, would probably have prevented the death in May of a Model S driver using autopilot, which thrust the technology into the public spotlight.
Musk also said the revised system would allow a driver's hands to be off the wheel for up to three minutes while following a car at highway speeds.
The statements in the filing by Mobileye intensified a dispute with Tesla over what led to an acrimonious and unusually public rupture between Mobileye and Tesla.
Mobileye's chairman on Wednesday said the company broke ties with Tesla because it was "pushing the envelope in terms of safety" with autopilot.
Comments will be moderated. Keep comments relevant to the article. Remarks containing abusive and obscene language, personal attacks of any kind or promotion will be removed and the user banned. Final decision will be at the discretion of the Taipei Times.